Posted Tue May 22nd by Monty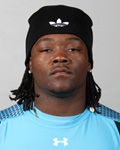 Denver Broncos sixth round draft pick linebacker Danny Trevathan has signed with the club, the Broncos announced Tuesday.
Officially, Trevathan becomes the third Broncos draft pick to sign his rookie contract. Monday, the Denver Post reported that Derek Wolfe had agreed to terms, but the Broncos have yet to announce it, suggesting they may be waiting for Wolfe to come to town and sign the dotted line.
Either way, having half the draft class signed in May is infinitely better than the training camp scurry of years past, and there's no reason the Broncos won't have their entire draft class signed by month's end.