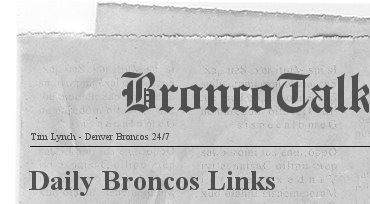 Be sure to follow me on Twitter for more Broncos updates throughout the day.
Hometown Hall of Famers: Floyd Little | SI.com (Video)
Take a look back with Howie Long at football great and Hall of Famer Floyd Little's thrilling career in the NFL.
Later Picks Learning Plenty | DenverBroncos.com (Video)
The second half of the Broncos' 2012 draft class is excited to be in Denver and is ready to work.
Broncos' playbook will be new to Manning, not to coaches | Denver Post
Let's clear something up. Offensive coordinator Mike McCoy did not send the Broncos' offensive playbook through the shredder after the team signed quarterback Peyton Manning this spring.

McCoy relying on Manning for insight into playbook | Washington Post
The Denver Broncos still plan on running an option offense. Only, this version centers on giving Peyton Manning the option of calling anything he wants.
Broncos' Decker, Demaryius Thomas get great help in offseason | Denver Post
Decker, Thomas in great place. Professionally speaking, the 2012 offseason couldn't have gone better for Eric Decker and Demaryius Thomas.
Xanders a victim of Elway's erasing of the McDaniels Error | Denver Post
What, they worry? After the dismissal of Brian Xanders as general manager of the Broncos, who's next on John Elway's list? Franchise owner Pat Bowlen?
Eaton's Mitch Unrein uses strong work ethic to make a name for himself with Denver Broncos | My Windsor Now
The 6-foot-4, 291-pound Unrein, a 2005 Eaton High School graduate who plays defensive tackle for the Denver Broncos, returned to his roots on April 28 and volunteered his time by signing autographs and posing for photographs at the inaugural Crushin' Cancer Benefit Softball Tournament in Windsor. Unrein, 25, was joined at the tournament by teammates Cassius Vaughn, a cornerback, and safety David Bruton.
Notebook: Building with Manning | DenverBroncos.com
Offensive Coordinator Mike McCoy said he and the rest of the staff are incorporating existing plays and ideas from quarterback Peyton Manning as they build the club's offensive system.
Fouts praises Elway, Manning, Fox at Junior Seau celebration | First and Orange
When former San Diego Charger Dan Fouts spoke at the "Celebration of Life" ceremony Friday night for linebacker Junior Seau at Qualcomm Stadium, the Hall of Fame quarterback was impressed that the Broncos sent the top three faces of their franchise – John Elway, Peyton Manning and John Fox – to the tribute.
Luke Del Rio, Jack's son, makes Elite 11 high school QB camp | First and Orange
Jack Del rio has a lot going on. New job as Broncos' D-coordinator. New city for his family. And his son Luke is a senior at Valor High who is a prized QB recruit. Luke Del Rio was named MVP of a Nike-sponsored, Columbus, Ohio football camp last weekend and was just invited to the prestigious Elite 11 quarterback finals camp for high school seniors that will be held in Los Angeles.
Blending the Past of Manning and the Broncos | MaxDenver.com
As if there was any lingering doubt in the matter with Peyton Manning aboard, it was confirmed Saturday that the Broncos' offense will look different than it did last year.
Scenes from a Practice: May 12 | MaxDenver.com
A few snapshots from a gray day at Dove Valley as the Broncos completed their second day of rookie minicamp …
DC Del Rio confident in MLB Mays | Rapid Reports
Some eyebrows arched when the Broncos gave Joe Mays $4 million guaranteed to remain their MLB after a 2011 season often defined by missed tackles. But DC Jack Del Rio felt Mays' struggles weren't his fault. "Some of the holes that he was asked to fill were awfully big," Del Rio said. "We're going to try and reduce some of those holes a little bit with our technique in the front and I think Joe will play even better when that happens."
Rookie Minicamp: McCoy | DenverBroncos.com
Offensive Coordinator Mike McCoy talks about working with Peyton Manning and what the approach will be next season.
Rookie Minicamp: Del Rio | DenverBroncos.com
Defensive Coordinator Jack Del Rio talks about getting back out on the field and his impressions of some of the players on Denver's roster.
Rookie Minicamp: Trevathan | DenverBroncos.com
Sixth round linebacker Danny Trevathan talks to the press after Saturday's practice.
Rookie Minicamp: Jackson | DenverBroncos.com
Fifth round defensive lineman Malik Jackson talks to the press after Saturday's practice.
Rookie Minicamp: Blake | DenverBroncos.com
Fourth round center Philip Blake talks to the press after Saturday's practice.
Rookie Minicamp: Bolden | DenverBroncos.com
Fourth round cornerback Omar Bolden talks to the press after Saturday's practice.