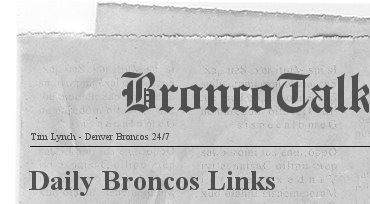 Be sure to follow me on Twitter for more Broncos updates throughout the day.
Clocking In | DenverBroncos.com
Denver's rookies take the field for this first time this offseason for rookie minicamp.
A Tweak Here, a Tweak There | MaxDenver.com
Brock Osweiler's arm strength was arguably the strongest in the draft — even with a delivery that needed refinement.

More Analysis of Games Started | Draft Metrics
Back in February DRAFTMETRICS published an article titled Games Started by Playing Position that reported the source of starters by playing position over the last five NFL seasons. This article uses that same data but only for the 2011 season to analyze whether there are any consistent player acquisition outcomes among successful teams.
Air Force officer Ben Garland taking aim at joining Broncos | Denver Post
The 30 greenest members of the Broncos gathered in a meeting room at Dove Valley on Thursday evening, and they went around giving introductions.
Broncos coach John Fox pleased with Brock Osweiler's progress | Denver Post
Since his last college game for Arizona State and his first practice with the Broncos on Friday, quarterback Brock Osweiler worked on refining his throwing motion.
Broncos' Garland not your average rookie | Fox 31 Denver
Denver Broncos rookies reported for minicamp Friday, including a defensive lineman who has actually been on the team for two years.
Broncos RB Hillman knew John Fox long before he met him | First and Orange
Each time Ronnie Hillman got off the elevator on the floor for study sessions in the San Diego State football complex, he was greeted by a photograph of a former Aztec safety.
Broncos quarterback Brock Osweiler wants to swap No. 6 for No. 17 | First and Orange
There is a downside to being a rookie, as Broncos quarterback Brock Osweiler has already discovered.
No. 79 is back on the hanger | First and Orange
For the past two weeks, Broncos' defensive end Jeremy Beal, who spent his rookie season on the practice squad, was wearing No. 79, or the number defensive tackle Marcus Thomas had been wearing the previous five seasons.
What's in a Number? | MaxDenver.com
Brock Osweiler took his number because it was what was available. Ronnie Hillman got the number of two of his childhood heroes.
Osweiler hits Broncos rookie minicamp with new mechanics under the Manning Plan | Yahoo Sports!
The Denver Broncos certainly know who their franchise quarterback is in the short term; they won the Peyton Manning Derby and gave the legendary signal-caller a five-year, $96 million contract for that sense of security.
Is Sealver Siliga the New Nose Tackle for the Denver Broncos? | Bleacher Report
The Denver Broncos have a whole slew of defensive tackles and linemen on their active roster, but most project to be three-technique defensive tackles. In layman's terms, these tackles line up in the gap on the offensive guard's outside shoulder.
Denver Broncos Waive DL Jeremy Jarmon | SB Nation
The Denver Broncos signed free agent cornerback Drayton Florence on Thursday afternoon, and on Friday morning they continued with roster moves as they waived defensive lineman Jeremy Jarmon.
Rookie Minicamp: Fox | DenverBroncos.com
Head Coach John Fox talk about taking the field with the team's rookies for the first time and starting this weekend's minicamp.
Rookie Minicamp: Osweiler | DenverBroncos.com
Quarterback Brock Osweiler talks about his modified throwing motion and participating in his first practice as a pro.
Rookie Minicamp: Hillman | DenverBroncos.com
Rookie running back Ronnie Hillman talks about practicing for the first time as a Bronco.