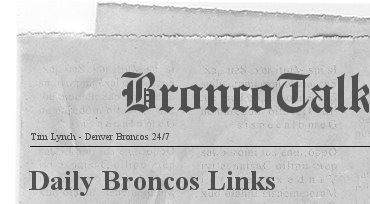 Be sure to follow me on Twitter for more Broncos updates throughout the day.
Drayton Florence to meet Denver Broncos after Titans visit | NFL.com
Free-agent cornerback Drayton Florence met with the Tennessee Titans, and is headed to meet with the Denver Broncos on Wednesday night, a source with knowledge of the situation told NFL Network's Albert Breer.
Broncos strengthen bond in leadership boot camp at Broadmoor | Denver Post
Offensive tackle Orlando Franklin, all 335 pounds of him, is climbing a 33-foot wall, strapped to two Broncos teammates, with a goal that all three would safely reach the top together.

Family Unsure Whether to Donate Seau's Brain to Research | Athletic Business
Junior Seau's family has yet to decide what to do with the former NFL linebacker's brain and will seek guidance from Samoan elders.
Romanowski dismissive of Carter's bounty claim | Denver Post
Former NFL wide receiver Cris Carter this week alleged that Bill Romanowski told him he planned on taking him out during a game. But the former Broncos linebacker laughed at the claim, saying Carter must have been a mind reader.
Tim Tebow circus good and bad, ex-teammate Daniel Fells says | NFL.com
Tim Tebow brings a lot to an NFL locker room. Some of it just happens to be a distracting media frenzy, his former Denver Broncos teammate, Daniel Fells, recently told the New England Sports Network.
Who is the Broncos' nose tackle? Watch for Siliga, Bannan, Warren and maybe Franklin | First and Orange
The Broncos addressed one defensive tackle position in the draft with the selection of Derek Wolfe with the No. 36 overall pick overall. But Wolfe is a "3-technique" defensive tackle/defensive end. The 3-technique means Wolfe plays in the "3" gap between the offensive guard and tackle.
With No. 79 assigned to Jeremy Beal, it doesn't appear DT Marcus Thomas will return | First and Orange
It doesn't appear likely defensive tackle Marcus Thomas will return to the Broncos. In fact, with the Broncos already re-assinging Thomas' No. 79 to defensive end Jeremy Beal, it appears all but assured Thomas will move on.
Ex-Broncos' GM would be good fit for Rams | ESPN
The St. Louis Rams' ongoing front-office shuffling brings to mind a name for consideration: Brian Xanders.
A Tale Of Two Offseasons: Denver Broncos, Kansas City Chiefs Test The NFL's Quarterback Maxims | SB Nation
Which team will end up on top? It remains to be seen but as two division rivals face each other in 2012, the way they got there will become an interesting subplot to follow.
Denver Broncos announce training camp dates with rookies reporting Friday | Examiner.com
Denver Broncos fans are among the most die-hard supporters of any team, be it in the NFL or any sporting league.