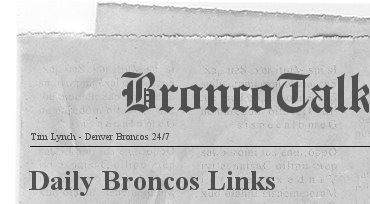 Be sure to follow me on Twitter for more Broncos updates throughout the day.
Rich Gannon knows well the challenges Manning faces | Yahoo! Sports
Peyton Manning has always been a split-second ahead – of the pass rush, of the opposing coordinator, even of his own receivers. Perhaps never in the history of the NFL has there been a quarterback as in tune with his surroundings as Manning was with the Indianapolis Colts. There was no static in the channel, no delayed reaction, no pause of uncertainty.
Hillman will be a star for Broncos | Gazette.com
The Denver Broncos found a bargain in the 2012 draft. Discovering Ronnie Hillman in the third round is the equivalent of finding a cache of gold coins under your bed.
Schiano, Bucs honor LeGrand's perseverance with contract | Peter King
When Greg Schiano told his kids they'd be moving to Florida, because he was going to become the coach of the NFL team in Tampa, one of them said: "What about Eric?"

Tom Nalen Thinks Timing Of Xanders Firing 'Kind Of Weird' | CBS Denver
Former Bronco Tom Nalen says he's dropped 65 pounds since his playing days as a Pro Bowl center for Denver. He was the special guest on Xfinity Monday Live!, just hours after Broncos general manager Brian Xanders was let go.
Broncos, GM Brian Xanders part ways | Business Week
Brian Xanders is out as general manager of the Denver Broncos after three years in that role.
Fells leaves Broncos' circus to join the three-ring Patriots | The Herald News
He's spent time in a 'circus.' Now, Daniel Fells finds himself in a land of three rings.
No room for Brian Xanders in Denver | ESPN
Denver leader John Elway and Xanders told the Denver Post that the team and Xanders have mutually parted ways. Elway told the paper the Broncos are streamlining their leadership structure and Xanders will not be replaced.
TOO MANY COOKS IN THE KITCHEN | Mile High Sports
It's been less than two weeks since the NFL Draft concluded, leading many to speculate that the Broncos performance during the three-day selection process led to the bombshell dropped yesterday at Dove Valley. Seemingly out of nowhere, one-third of the EFX brain trust was sent packing when the team announced that general manager Brian Xanders was departing.
Rich Gannon Speaks About Peyton Manning's Challenges | Predominantly Orange
Former NFL quarterback Rich Gannon spoke out on Peyton Manning and the difficulties that he will face in coming back after neck surgery and playing in a different system.