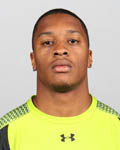 Coryell Judie
Pos: Cornerback
School: Texas A&M
Class: Senior
Ht: 6'0″ Wt: 196 lbs.
40-time: 4.5 Bench: –
Coryell Judie is a flashy athlete, willing tackler, and special teams ace. He is valuable as a kick returner as well as defending kicks. Judie is a confident and tough player but is consistently hampered by injuries. He does an extraordinary job of high-pointing  the ball in the air to defend it. However, he gives up far too much distance at the break point and had the worst 3 cone drill of any cornerback at the combine. This could dictate a switch to safety where his athleticism and tackling abilities could shine. He does have good zone awareness. He's just far from capable of being a cover corner in the NFL.
Scouting Reports: NFL, CBS, PFW, NFP, Texas A&M, Broncos
Camp Competition: Omar Bolden, Tony Carter, Ramzee Robinson. 
Camp Outlook: The way I see it, it's Bolden or Judie. They are too similar to both make the roster. Both are dynamic in the return game. Both have a laundry list of durability issues. Both have very far to go before they can contribute as a CB. Bolden can stick to a man like glue whereas Judie will give up yards of space between him and a receiver. When the ball is in the air, Bolden gets completely lost and even if he is chest to chest with the receiver, is unable to make a play on the ball. When the ball is in the air for Judie he closes down the space and gets a hand on the ball or puts a hit on the would be receiver. It is very unlikely that approach would have any merit in the NFL though. If Judie can prove to be a threat in the return game he will have guaranteed his spot on the roster. If he can stay healthy there could be a productive S/CB hybrid Nickel and Dime situation position waiting for him.
Career Statistics
Year
GP
TKL
PDef
Int
Yds
2011
7
22
5
0
0
2010
13
57
4
4
31
2009
0
0
0
0
0
2008
0
0
0
0
0
Totals
20
79
9
4
31
BroncoTalk's undrafted rookie reports are compiled by examining second-hand scouting reports, news articles, and, when available, film footage of the Broncos' undrafted rookie. Judie is one of 13 undrafted free agent rookies the Broncos will bring in to compete in their 2012 training camp.