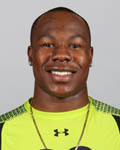 Duke Ihenacho
Pos: Strong Safety
School: San Jose State
Class: Senior
Ht: 6'1″ Wt: 205 lbs.
40-time: 4.66 Bench: 20
Duke Ihenacho, pronounced "EE-ah-NAH-cho," was a four-year starter at SJSU who earned all-conference honors since his sophomore season. Watch Ihenacho and you will see a wild downhill tackler. He reads run plays much quicker than passing routes and can be late on assignments over the middle. He is a strong tackler but tends to remind me of someone playing Madden and using the hit-stick wrecklessly. He is always putting his head down to attempt to blast through the runner that, on occasions he will end up looking silly. He has good strength, instincts, and NFL bloodlines and could be an impact player on special teams as a rookie. Duke possesses the tackling prowess and aggression John Fox desires in a SS and that the Broncos are now missing post Dawkins retirement. If Ihenacho were to become a reliable contributor in our defensive sets he would be well served to put in a lot of practice time covering routes and assignments.
Scouting Reports: SI, CBS, PFW, NFP, SJSU, Broncos
Camp Competition: Mike Adams, Quinton Carter, David Bruton, Rahim Moore, Rafael Bush, Joshua Moore
Camp Outlook: As with the majority of UFA's they are most likely to find a spot contributing on special teams if they are able to make the roster year one. With Duke's instinctual style and nasty hits, coupled with the lack of depth at the position, there could be a real opportunity to see Ihenacho on the depth chart. Aside from Ihenacho, Carter, and Bruton the Broncos have Rahim Moore and Mike Adams at the Safety position but both are not stout enough tacklers to man the SS position and are stuck as FS's. Carter, the assumed starter, was a hard hitter in college but showed some hesitancy and nerves. Lets see if he outgrows this in his Sophomore season. Bruton is a hard worker and has proved so by keeping a stranglehold on a roster spot the last few seasons despite ever being much of a contributor. If Ihenacho develops well he could leapfrog Bruton.
Career Statistics
Year
GP
TKL
PDef
Int
Yds
2011
11
73
6
1
0
2010
2
8
1
0
0
2009
12
89
6
1
18
2008
12
66
6
5
92
2007
10
32
4
0
0
Totals
47
268
23
7
110
BroncoTalk's undrafted rookie reports are compiled by examining second-hand scouting reports, news articles, and, when available, film footage of the Broncos' undrafted rookie. Ihenacho is one of 13 undrafted free agent rookies the Broncos will bring in to compete in their 2012 training camp.