Posted Sun May 6th by Monty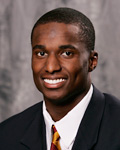 Gerell Robinson
Pos: Wide Receiver
School: Arizona State
Class: Senior
Ht: 6'3″ Wt: 227 lbs.
40-time: 4.62 Bench: –
Gerell Robinson, much like his quarterback partner and ASU/Denver Broncos counterpart Brock Osweiler, only came onto the scene in his senior year of college. A tall target not afraid to work the middle of the field, Robinson's big-play abilities have been questioned for some time, though his 18-yard average in his senior season will quell some of those concerns. The main knocks against Robinson are his speed, lack of burst off the line of scrimmage, and tendencies to straight-line it. He played mostly out of the slot at ASU despite his size.
Scouting Reports: NFL, PFW, NFP, DC, ASU, Broncos
Camp Competition: Demaryius Thomas, Eric Decker, Andre Caldwell, Matthew Willis, D'Andre Goodwin, Brandon Stokley, Mark Dell, Tyler Grisham, Jason Hill, Greg Orton, Eric Page
Camp Outlook: The Broncos have a lot of wide receivers under contract right now, and outside of the top three, no one is guaranteed a spot following camp. Robinson definitely has the size, arm length, and style that would remind some Broncos fans of Brandon Marshall, but his game requires far more polish. Given the nature of his relationship with Brock and the fact that Osweiler isn't expected to be game-ready for a few years, Robinson seems like a prime candidate for the practice squad.
Career Statistics
Year
GP
REC
YDS
YPC
TD
2011
13
77
1,397
18.1
7
2010
11
29
387
13.3
5
2009
12
26
261
10.0
0
2008
10
3
26
8.7
0
Totals
46
127
2071
16.3
12
BroncoTalk's undrafted rookie reports are compiled by examining second-hand scouting reports, news articles, and, when available, film footage. Robinson is one of 13 undrafted free agent rookies the Broncos will bring in to compete in their 2012 training camp.