Posted Wed May 2nd by Monty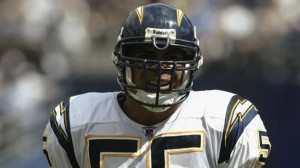 Some stories transcend division rivalries… our heartfelt sympathies to Chargers nation and Junior Seau's family. Here are a collection of comments from Broncos players, current and former.
John Elway —
I had the pleasure of playing against Junior for many years. He played the game the way it was meant to be played…

— John Elway (@johnelway) May 2, 2012
(continued) "We shared a lot of laughs from our AFC West battles when I saw Junior before he was inducted into the Chargers HOF in November. Junior was a true competitor and a special player. My heartfelt condolences go out to the Seau family."
Peyton Manning —
"When I first got into the league in 1998, the two most dominating defenders I played against were Junior Seau and Bruce Smith. Junior was truly a once-in-a-lifetime player. I remember how many times we would be getting ready to play him and the Chargers and someone would say, 'This is a blitz here.' And I would say, 'That's not a blitz; that's just Junior Seau smelling something and going after it.' He was very difficult to play against because his instincts would always lead him to the right place on defense—or the wrong place for the offense. He and Ray Lewis are the two best linebackers I've ever played against, and I know many others would feel the same way.

"I had the great pleasure of playing against Junior but I also had the honor of playing with Junior in a couple of Pro Bowls. Just in those shorts weeks of Pro Bowl practices, nobody had more passion for the game than Junior Seau. His energy and enthusiasm—you could tell how it spread back to his teammates with the Chargers, Dolphins and Patriots. I also got to attend some charity functions with him and I saw how philanthropic he was in giving his time and money to several worthy causes.

"To me, Junior had a quality of making the people around him feel special and comfortable. It didn't matter what environment he was in—he had just a great energy and an aura about him that people gravitated to. That's why he was such a great leader. I always felt good being around him. He was truly a one-of-a-kind football player and a one-of-a-kind person just because of his passion.

"I was honored to call Junior a friend and I was deeply saddened by the news of his passing. I will truly miss him, and I know a lot of people are going to miss him. My heartfelt condolences go out to his family."
2010 Draft Pick Eric Olsen — (via)
Wow this is a tough one.. When I was a frosh in HS Junior Seau worked the Jay Fiedler Football camp and at the end of one of the days he…

— Eric Olsen (@EOlsen69) May 2, 2012
(continued) "Being one of the 'big' kids, I was volunteered by my buddies and went up in front of the whole camp to face this monster of a man. Shaking in my cleats, he gave me a wink before a coach gave the cadence. He let me pancake him. And he sold it too…

"I can't even tell you how good I felt at that moment; it changed me forever. The whole camp cheered for me, a chubby kid that didn't know if he even liked football. From then on
I was addicted. All thanks 2 this 10 time all-pro that felt like making some snot-nosed kid's day…

"Doesn't seem like much but it meant a lot to me. Sorry for the essay just had to share. RIP Junior I'll never forget what you did for me."
Ed McCaffrey —
So very sad. I played against #JuniorSeau in college & NFL, truly one of the greatest to play the game. My thoughts & prayers to his family.

— Ed McCaffrey (@87ed) May 2, 2012
Brian Dawkins —
I pray for strength & comfort for the Seau Family. #RIP JR Seau !!!

— Brian Dawkins (@BrianDawkins) May 2, 2012
Wesley Woodyard —
R.I.P. Junior Seau! One of the best LBs/Players to ever play the game! We are going to miss you

— Wesley Woodyard (@WoodDro52) May 2, 2012
Terrell Davis —
I Just heard the sad news that Jr. Seau has Passed away. One of the greatest sports figures from San Diego. #tragic

— Terrell Davis (@Terrell_Davis) May 2, 2012
If you see any we missed, please note them in the comments and we'll pass them along. R.I.P. Junior Seau.