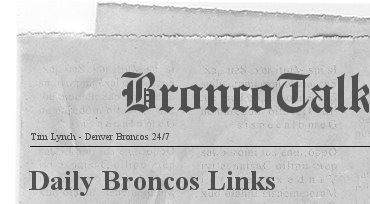 Be sure to follow me on Twitter for more Broncos updates throughout the day.
Reflecting On The Weekend | DenverBroncos.com
Broncos TV talks 1-on-1 with Head Coach John Fox about the 2012 NFL Draft.
Yet again, draft provides no shortage of stories to talk about | Peter King
So what were 39.6 million people doing over the weekend? Watching the draft. At least one minute of it, according to NFL numbers released Sunday. I won't cover all three days of it here. Instead, I'll pick and choose the things that most interested me, and then … well, let's just get it going. There's so much to say.

Discerning Denver's offseason forest from the draft trees | IAOFM
I walked out of the draft nonplussed. If I'd been plussed, I'd have been much happier, but some days you just can't get plussed to save your life. The draft was so different from the energy of the free agent period (which was moderately ecstatic), that several moves during the draft took me completely off guard.
THE BRONCOS GO COLD | Mile High Sports
Credit must be given where credit to due. The Denver Broncos landed the biggest free agent in NFL history, Peyton Manning, and deserve nothing but praise for the move. John Elway and Company pulled off what few thought was possible and even fewer saw coming. Their actions in free agency were clever, clear and decisive.
Grading the NFL draft: Denver Broncos double down on defense | Denver Post
It was a draft with a capital D, as in Defense. The Broncos used four of their seven picks on defense, including their first pick of the draft — Cincinnati defensive tackle Derek Wolfe — in the second round (36th overall). The Packers, Eagles and Patriots used their first 18 selections combined on defense.
Peyton Manning dons new Denver Broncos jersey for DIRECTV commercial | CBS Sports
Peyton Manning's now a member of the Denver Broncos. Those words never look any less weird when I write write them, but it's a truth that we've all got to get used to.
How coaches, scouts and execs graded the NFL draft, including Broncos | First and Orange
After talking to some coaches, scouts and executives around the NFL, here's how they graded each of the NFL teams, by tier, at the NFL draft (from the bottom up)…
Broncos 2012 Roster: Denver Waives WR Tim Toone | SB Nation
Between the 2012 NFL Draft and free agency, the Denver Broncos have added a lot of new players to the team over the last few days. That left no room for wide receiver Tim Toone, who was let go by the organization on Monday.
2012 NFL Draft Grades: ESPN's Todd McShay Tabs Wolfe, Bolden As Broncos Most Interesting Picks | SB Nation
ESPN's Todd McShay is one of the NFL Draft's most prominent analysts, but he didn't hand out any letter grades this year. That said, he did select two standout draft picks from each team, one that he thinks will have the most "impact" and one that he thinks is the most "intriguing."
Peyton Manning Broncos Jersey | DenverBroncosSWAG.com
I recall buying a John Elway jersey back in 2008 for about $127. That was breaking the bank! This is definitely how I should have done it, but live and learn I suppose.
Mile High Monday: Denver Broncos Draft Overview | Predominantly Orange
The 2012 NFL Draft proved to be the most unpredictable and exciting draft in recent memory. With a record 19 trades in the first round alone, there was simply no way of telling what we were going to see next.