Posted Mon Apr 30th by Monty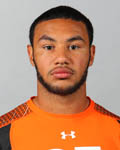 As Tim covered in the Daily Links, Toledo wide receiver became the 13th undrafted college free agent to sign with the Denver Broncos late Saturday, the Denver Post reports. We had earlier reported that 12 undrafted college players joined the Broncos following the conclusion of the 2012 NFL Draft.
Page is 5-9 and 185 lbs. and was coveted for his return skills. The Post's Lindsay Jones speculates that he could enter training camp as the team's number one punt and kick returner.
At least one undrafted rookie has made the Broncos' 53-man roster in each of the last eight seasons; like his 12 other draftmates, Page's future in Denver is now in his own hands.
Broncos add 13th UDFA, WR Eric Page [First and Orange]