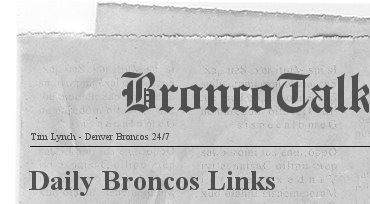 Sorry I am running late today! I slept in after staying up late mostly complaining about the Denver Broncos first actual day of drafting. I'm hoping for some VALUE picks today, rather than more reaches. Go Broncos!
True To The Board | DenverBroncos.com
The Broncos grab three players ranked high on their board during the second day of the 2012 NFL Draft.
Best available players on Day 3 | NFL Videos
Plenty of good defensive players are left, according to Mike Mayock. Find out which prospects teams should target on the third and final day of the 2012 NFL Draft.
Second Day Trades | Draft Metrics
ANALYSIS: Although the move up was pretty large picks 67 and 87 have had the same historical results. The Browns received a healthy premium.

Looking Ahead to Saturday | Draft Metrics
The NFL Draft moves into the final four rounds on Saturday. There are lots of extra pick in these rounds due to compensatory selections so we will see 40 selections in Round 4, 35 in Round 5, 38 in Round 6 and 46 in Round 7.
Broncos turn to youth movement with two of draft's youngest | Denver Post
The Broncos obviously like low-mileage readings on the football odometer for their prospects.
Colorado stars, including CU's Ryan Miller – still waiting to be picked in NFL draft | Denver Post
Former Colorado offensive lineman Ryan Miller and other area prospects hope to hear the phone ring today during the NFL draft.
A look at Broncos Friday draft picks: Wolfe, Osweiler, Hillman | Denver Post
Had 21.5 tackles for a loss and 9.5 sacks as a senior. … Started 38 consecutive games for the Bearcats from 2009-2011. … Forced three fumbles in his career.
Broncos' pick QB Brock Osweiler says Denver's a "perfect fit" | Denver Post
Acknowledging that some top college quarterbacks would be disappointed at having to sit on the bench early in their NFL career, Arizona State quarterback Brock Osweiler called Denver "a perfect fit" Friday night after the Broncos chose him with the 25th pick of the second round (No. 57 overall).
Derek Wolfe a surprise pick by Broncos at NFL draft, but not lacking confidence | Denver Post
Broncos draftee Derek Wolfe may be a surprise to some analysts, but the 6-foot-5, 286-pound defensive tackle from Cincinnati said Friday night he was disappointed at not being selected in the first round a day earlier.
Versatile Ronnie Hillman reaches NFL dream with Broncos | Denver Post
As a third-year sophomore last fall, San Diego State running back Ronnie Hillman played only two years of college football.
Broncos select Brock Osweiler as heir apparent to Manning | Denver Post
Just one month after the Broncos gave Peyton Manning a red-carpet welcome, they came up with his exit strategy.
Fox and Co. don't care about experts' draft boards | First and Orange
John Fox won't be a popular man in Bristol, Conn. after taking a shot at TV draft analysts tonight.
Broncos show they believe effort as important as workout numbers | First and Orange
When the Broncos went by Kendall Reyes and Jerel Worthy on the draft board and selected Cincinnati's Derek Wolfe with the 37th pick of the draft, they showed the "football character" component of their grading scale is as important to them as any 40-yard dash or vertical jump.
Round 2, No. 36: DL Derek Wolfe, Cincinnati | MaxDenver.com
Derek Wolfe was told to expect to be taken in the late first or second round, so his draft slot wasn't a surprise to him. But the destination?
That's 'Plan B' — as in Brock | MaxDenver.com
If you're a Broncos fan — as most visitors to this site are — you don't want to believe that something might happen to Peyton Manning. You want the $18-million-plus of guaranteed money to be a wise investment, for his surgically repaired neck to hold up as though it were new and unscarred, and for him to emerge from hits at the age of 36 and 37 with the same resilience as he did at 22.
Round 3, No. 67: Ronnie Hillman, RB, San Diego State | MaxDenver.com
The surprise at No. 67 after the Broncos traded up 20 slots with the Cleveland Browns was which running back the Broncos selected, not that they picked a running back.
Gut Reaction: Broncos draft Derek Wolfe with pick #36 | IAOFM
That's probably the first reaction from most Broncos fans to the news Denver selected Derek Wolfe, defensive tackle from Cincinnati, with their #36 pick. Jeff Legwold didn't even have Wolfe in his top 100. Does it make you feel any better that Mel Kiper had the Broncos selecting Wolfe at pick #25 almost two weeks ago?
Gut Reaction: Broncos draft Brock Osweiler at #57
You wonder why the Broncos rid themselves of Tim Tebow? Apparently, he wasn't tall enough. The Broncos said they were looking for impact players at the top of the draft. If that´s the case, John Elway just lied to us.
Gut Reaction: Broncos draft Ronnie Hillman at #67
It took the Broncos a few picks to get started, but they finally drafted an impact player. And he was coached by Snoop Dogg as a Pee Wee League player. It ain't nuthin' but a Ronnie Hillman thang, baby. Broncos on third down goin' crazy.
John Fox Press Conference | DenverBroncos.com
Head Coach John Fox talks about the team's second and third round draft picks.