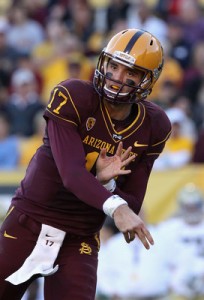 You can be right, but wrong at the same time.
Don't freak out just yet. Osweiler may not even be available here, but if he is the Broncos just might take him.
The above quote is from my 2012 Denver Broncos Draft Preview, where I had Brock Osweiler mocked to Denver at 87th overall. I was right; Brock Osweiler would not be available at 87. However, I was wrong.
Instead, the Denver Broncos selected Brock Osweiler thirty spots earlier at 57th overall.
Osweiler, a 15 game starter as Arizona State, came out a year earlier than expected. His junior year was his only full year as a starter.
During his starting season he completed 63% of his passes for 4,036 yards, 26 TDs and 13 interceptions.
Arizona State uses a lot of screen and swing passes so many of his down field accuracy was not tested too often. John Fox however, was not too concerned.
Fox: Osweiler's accuracy, mobility impressed him. Osweiler was the highest player on Denver's board at No. 57.

— MaxBroncos (@MaxBroncos) April 28, 2012
Osweiler's arm is strong and he has proven he can be accurate with the deep ball, but he can be very inconsistent. 
During certain games last season Osweiler could look like a first round prospect. Then at other times, the young Sun Devil could look absolutely clueless.
The Good
Osweiler is big, tall, strong, and surprisingly fast. Weighing in at 242, Osweiler ran a 4.94 forty on his pro-day.
Tenacity is another one of Osweiler's strengths. Standing tall and calm in the pocket, ready and willing to burden the punishment and still make the throw is a point of pride for Osweiler.
Fearless is a great word to describe the way Osweiler plays. There is plenty of tape out there of Osweiler ripping a throw out just milliseconds before a defender comes smashing into him.
The love of the game runs wild through Osweiler's blood. Originally Osweiler was going to play basketball at Gonzaga, but once the football scholarships came in, he jumped at his opportunity to play quarterback in the NCAA. His love for the game might just be why Osweiler left college a year early.
Osweiler is a good scrambler. Defenses can underestimate how fast and agile he really is. When a play does break down and Osweiler has to scramble to buy time, his height allows him to see all the options that are open and that can lead to a positive gain on a broken play.
Against Missouri, Osweiler accurately placed a 60 yard bomb for the touchdown. Later on in the game, Osweiler would stay strong in overtime to win the game for Arizona. The win against Missouri was ASU's first win over a ranked team since 2007.
A big time game against Southern California, Osweiler stepped his game up. The offense mainly consisted of screen passes and running back Cameron Marshall gutting the Trojans, but Osweiler played very well. When the big time throws down the field had to be made, Osweiler was there to get the job done. The Sun Devils would beat the Trojans, the first time in 11 seasons.
The Bad
Six games into the 2011 season Arizona State was a surprise 5-1. Sadly, the success would not last. Osweiler and the Sun Devils finished the season with a whimper, going 1-5 with their sole win over a lowly Colorado (sorry Buff fans). The blame for the disastrous finish is not all on Osweiler's shoulders. Arizona State was infamous for their awful defense.
Despite the 1-5 finish the Sun Devils qualified for a bowl game against Boise State. If Arizona had thought they had seen the worst their season had to offer, they would have been dead wrong.
The Broncos ran the table on the Sun Devils in a 56-24 rout. The Arizona defense did not do Osweiler any favors, but he had his fair share of the blame. I chronicled a few of his mistakes in my draft profile of Osweiler.
During this trifling loss, Osweiler threw an absolutely horrible pick-six in the red zone [which went back 100 yards], forcing the ball to his receiver without even looking anywhere else.

He knew they were down and they needed a big play to lift them back into the game, but he was way too entirely reckless and contributed to the disaster.
The Bottom Line
Osweiler is a project. Fortunately for the Broncos he will have the time and support to learn. Osweiler will have to focus on his throwing motion. In college his height allowed him to get away with a pseudo-sidearm release. The Arizona State offense did not require Osweiler to take many (perhaps any) snaps under center, so he will have to get accustomed to an NFL offense.
Strangely a lot of the knocks Osweiler receives are eerily similar to the same ones Tim Tebow goes through. Osweiler's throwing motion needs to be improved, he did not play in an pro-style offense, he did not take snaps from under center, and he is a big project.
That being said though, when it comes to being a quarterback, Tim Tebow and Brock Osweiler have about as much in common as night and day do. Osweiler's flaws in his throwing motion is nearly a fender bender compared to Tim Tebow's 15 car pile up.
All of the tangibles and intangibles are there. If Osweiler can improve his decision making and pick up an NFL offense he could blossom into a solid starting quarterback. However, he still has a long ways to go.
For my information on Osweiler, check out my draft profile on him.
What do you think Bronco Country? Do you approve of Brock Osweiler? Is the kid from Montana going to be the Bronco's quarterback of the future? Let us know in the comments!