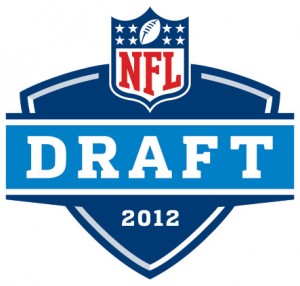 Pick thirty-one is classic, pick thirty-two is the last one!
Get all of look of the whole schedule and previously selected players here.
Last three picks
29. 

 Harrison Smith, DB, Notre Dame
30. 

 Devon Still, DT, Penn State
31. 

 Jerel Worthy, DT, Michigan State
Today's GM is BroncoTalk's very own Josh Temple.
With the thirty-second pick of 2012 Interactive Mock Draft, the New York Giants select…
31.

Coby Fleener, TE, Stanford
When you've won the Super Bowl you receive the luxury of being able to make your first round selection based off pure talent at the player's position rather than taking (or reaching out of need). This the why as the Giants we selected Coby Fleener. We've been lacking in the TE department since the departures of Shockey and Boss over the last few years. We have tried to fill this hole with signing UDFA Jake Ballard. And while you couldn't ask for much more out of a guy not even selected we still need a serious talent upgrade at that position. We also made a value free agent signing by taking Martellus Bennett away from our rival but why settle when you don't have to?

We had also looked at targeting offensive tackle, specifically Mike Adams. However need started to dominate the draft selection process once again and the only talent we graded this high was gone. Offensive line is a need of this team, however the best prospects were already taken and we wanted to maximize value with our first round pick. Also, offensive line has historically been a position at which you can pull strong talent from later selections. Linebacker was also a need for our team however we have never graded the position nearly as high as our defensive line talent or need for secondary. That said, the only player we had highly graded was Dont'a Hightower.

Secondary brings me to my final point in the selection process. It was hard to pass on Stephon Gilmore, but after selecting corner in the 1st round the previous year we had to bolster a different area. Also the other teams had him graded the same way we did, as the 3rd best player at his position. Back to my original point, we're taking the best player available at his position in Fleneer. Many contenders have something in common across the league. Great tight ends. Graham, Gronkowski/Hernandez, etc. It's time to give our quarterback that safety valve and outstanding weapon. We can also pair Coby with our depth at the position to help him grow and gain quick experience to make an immediate impact.

Josh Temple
Faux NY Giants G.M.
ON THE CLOCK: Nobody! That's all she wrote!
I would like to thank everyone so much that participated in this year's Interactive Mock Draft! It was one heck of a time organizing and participating it. I can't wait to see what next year has in store!