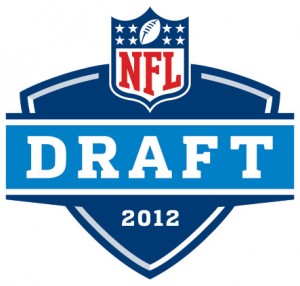 Pick thirty is classic, pick thirty-one is BRONCO TERRITORY!
Get all of look of the whole schedule and previously selected players here.
Last three picks
28. 

 
Whitney Mercilus, OLB/DE, Illinois
29. 

 Harrison Smith, DB, Notre Dame
30. 

 Devon Still, DT, Penn State
We broke it down, now it's time for the Broncos GM to make the pick again!
Due to a trade with the New England Patriots. Today's GM is gmunny33.
With the thirty-first pick of 2012 Interactive Mock Draft, the Denver Broncos select…
31.

Jerel Worthy, DT, Michigan State
A note from the Commissioner
The Denver Broncos have traded with the New England Patriots

The Broncos will receive:

The Patriots 31st pick (1st round) (600 points)
The Patriots 126th pick (4th round) (46 points)

The Patriots will receive:

The Broncos 57th pick (2nd round) (330 points)
The Broncos 61st pick (2nd round) (292 points) (from the earlier Broncos trade with San Francisco)
The Broncos 137th pick (5th round) (37.5 points)
The Story, as told by GM gmunny33
Our plan for this draft was to follow the blueprint of the Super Bowl champion New York Giants. They used an aggressive pass rush to get sacks, force incompletions, kill drives and protect leads all season long, and they did it with a much worse secondary and an arguably worse quarterback than we have in Denver. While our next pick won't put us quite on the same level as the Giants, it will bring us much closer to that ideal than we were before the draft. With the 31st pick, we select the other consensus All-American defensive tackle, Jerel Worthy from Michigan State.

Worthy anticipates the snap better than any tackle in this year's class. He then uses his speed to get in the backfield and wreak havoc. His knack for collapsing the pocket quickly makes him a perfect complement to our already-established edge rushers in Von Miller and Elvis Dumervil. Last year, quarterbacks stepped up in the pocket all the time to avoid the pass rush. Worthy will make that a much tougher proposition. Worthy was also difficult to run against at Michigan State. He gives us a force of nature that the Broncos have lacked at DT for a long time.

Some of our fans will complain that we already picked defensive tackle Devon Still. But Still can play nose tackle, meaning he can play alongside Worthy, strictly a three technique, in our base 4-3. Between these two and Bannan, we now have three "worthy" defensive tackles to rotate in and out. New defensive coordinator Jack Del Rio will find creative ways to use all three. When you need more than one defensive tackle, picking more than one is no crime.

We don't particularly like losing picks to trade up, but the alternative was to sit tight and hope to God another three technique like Kendall Reyes made it to the 57th pick, which we were not comfortable doing. Plus we still have a third-rounder and now three fourth-round picks (because of the trade) to go after quality depth at other positions.

Adding Worthy makes Still better, and Still makes Worthy better. Worthy's main issue was handling double teams. But having Still to contend with makes double teaming Worthy a risky move for opposing offenses. The presence of Miller and Dumervil also make Still and Worthy better, and vice versa. There are only so many pass blockers an offense can use on one play.

With these two picks, we hope to establish our defensive line for the present and the future, and fulfill the promise the defense showed in 2011.

Go Broncos!
ON THE CLOCK: New York Giants, BroncoTalk's very own GM Josh Temple!