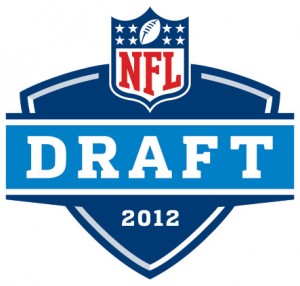 Pick twenty-nine is classic, pick thirty is BRONCO TERRITORY!
Get all of look of the whole schedule and previously selected players here.
Last three picks
27. 

 Shea McClellin, OLB, Boise State
28. 

 
Whitney Mercilus, OLB/DE, Illinois
29. 

 Harrison Smith, DB, Notre Dame
We broke it down, now it's time for the Broncos GM to make the pick! Today's GM is gmunny33.
With the thirtieth pick of 2012 Interactive Mock Draft, the Denver Broncos select…
30.

Devon Still, DT, Penn State
The Broncos have multiple positions that could be upgraded. Guard and center, receiver, and running back on the offensive side, defensive tackle, middle linebacker, cornerback and safety on the defensive side. So the strategy is simple: take the best available player who makes any kind of sense for our roster.

Out of all those listed, defensive tackle is the only position that seems like a true, immediate need for the 2012 season. Every other position has young players on whom we're not ready to give up until they've had an actual offseason (like Rahim Moore, Quinton Carter, and Nate Irving), or a player that can hold the fort down for at least one year (like Joe Mays and Mike Adams). Peyton Manning and his quick release make our interior line less of a problem, and Manning has been successful with worse offensive lines in the past. But going into training camp with Justin Bannan and a veritable buffet table of over-the-hill, injury-prone veterans and unproven young players with little upside is just not an option.

Luckily, the draft went down in a way that made our decision pretty easy. We can satisfy both our need for good value and our need to not have a gaping hole on the roster by selecting Devon Still, defensive tackle from Penn State.

Still can play either the nose tackle or the three technique in our 4-3 defense (and if we decide to switch to the 3-4, he can play defensive end in that scheme as well). This versatility is a huge part of his appeal. He has the power and explosiveness to absorb double teams and make tackles in the run game. He has a variety of pass rush moves, including his spectacular bull rush that he has used to great effect, and the strength and speed to pull them off against stronger NFL linemen. He was electrifying against the talented offensive line of Alabama. His stature is already impressive but he has the potential to add muscle too. While he is not as dynamic as Fletcher Cox and Michael Brockers for example, he is the most technically sound defensive tackle in the draft, and seemed to be the consensus best tackle before being overshadowed by other players at the Combine. In terms of intangibles, by all accounts he was the leader of the Penn State defense and a great teammate.

His main issue is consistency. He seemed to wear down toward the end of games and the end of the season. This just means that our new, forward-thinking strength and conditioning coach Luke Richesson will earn his paycheck working with Still. We are excited to add him to our roster.
ON THE CLOCK: New England Patriots, GM Digger