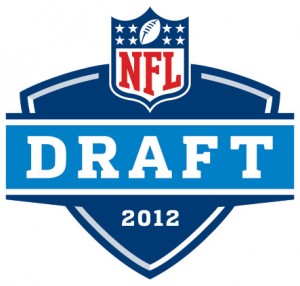 Pick twenty-eight is classic, pick twenty-nine is fresh.
Get all of look of the whole schedule and previously selected players here.
Last three picks
26. 

 Jonathan Martin, OT, Stanford
27. 

 Shea McClellin, OLB, Boise State
28. 

 
Whitney Mercilus, OLB/DE, Illinois
Today's GM is Mr. East
With the twenty-ninth pick of 2012 Interactive Mock Draft, the Baltimore Ravens select…
29.

Harrison Smith, DB, Notre Dame
The Ravens were one drop away from the Super Bowl, but Baltimore does not have a great history of taking receivers in the first round. Alshon Jeffery is available, but Torrey Smith and Anquan Boldin are more than capable.

Just like Ray Lewis, Ed Reed wont be around forever. It is time to bring in a safety to sit and learn from Reed. Harrison Smith had a great Senior Bowl as well as a solid combine. Smith is a big physical player who could learn a lot from Reed.

Many believe that Harrison Smith does not belong in the first round, but we disagree. It's not good practice to pass on the best safety available just because a few people think he should be taken just a mere four picks later.

Smith ran a 4.56 at the combine and the consensus was that he was the best safety at the Senior Bowl.
ON THE CLOCK: Denver Broncos, GM gmunny33