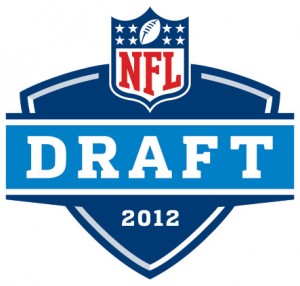 Pick twenty-seven is classic, pick twenty-eight is fresh.
Get all of look of the whole schedule and previously selected players here.
Last three picks
25. 

 Kendall Wright, WR, Baylor
26. 

 Jonathan Martin, OT, Stanford
27. 

 Shea McClellin, OLB, Boise State
Today's GM is Bob Devine
With the twenty-eighth pick of 2012 Interactive Mock Draft, the Green Bay Packers select…
28.

Whitney Mercilus, OLB/DE, Illinois
The Green Bay Packers have three big needs — all 3 are on defense. Most glaring is at defensive end (losing Cullen Jenkins hurt) and the team could improve at pass-rushing (to book-end Clay Matthews) and pass-defense (Charles Woodson is great but old; Tramon Williams is young but only so-so). Looking at the players still available, there are possible picks at each of those three positions. The old debate about draft philosophy pops up: Should a team pick for need or for talent? Â Draftniks talk about BPA. Â But 'best' is a very fuzzy evaluation. Â Al Davis valued speed when making picks for the Raiders for many years with some noticeable misses. Â Other teams ranked players by other dimensions to find a best player.

The Packers is a team that usually goes with best player available. But a first-round pick has to be "best" in ways beyond simply picking the best athlete. The Packers pick Whitney Mercilus from Illinois. The Packers' pass defense was weak as opposing teams just concentrated on stopping Clay Matthews. The team finished last in the regular season statistics, allowing 300 yards of passing per game. Green Bay had only 29 sacks this year.

Mercilus had a strong Combine performance that showed that he has enough athletic talent to be a first-round pick. Mercilus was the best pass rusher in college with 16 sacks and 9 forced fumbles.

While there is some concern that he has shown only one great year, he played consistently all year.

He would immediately play as a situational pass rusher and learn to be a three-down player.
ON THE CLOCK: Baltimore Ravens, GM your's truly Mr. East