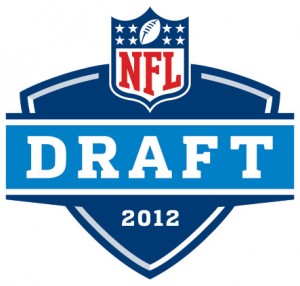 Pick twenty-six is classic, pick twenty-seven is fresh.
Get all of look of the whole schedule and previously selected players here.
Last three picks
24. 

 Mike Adams, OT, OSU
25. 

 Kendall Wright, WR, Baylor
26. 

 Jonathan Martin, OT, Stanford
Today's GM is Digger
With the twenty-seventh pick of 2012 Interactive Mock Draft, the New England Patriots select…
27.

Shea McClellin, OLB, Boise State
In the draft we are looking to add a starting  left tackle, starting left outside linebacker, and a couple of DEs. With the offensive tackles pretty much scavengered over the consensus is to set our sites on the pass rush. After Quinton Coples most of the defensive ends are tweener type guys and not really what we want. Outside linebacker is where we should go with this pick.

Whitney Mercilus is still on the board, but he is possibly a one year wonder, which scares us a bit. Shea McClellin is more what we are looking for and so he is our pick. CBS Sports says, at Boise State, he was Mr. Versatility. McClellin saw snaps at defensive end, outside linebacker, some inside linebacker and even a pinch of nickel.

In college, he tried to mold himself after New England linebacker Mike Vrabel. "That type of guy just because of his versatility and what he did," McClellin said. "I think just the way he moved and the way he did everything was kind of old school and that's how I like to do it….I would say it's the same mindset as if I was in a 4-3. I'll attack the edge and get after the quarterback any way I can."

Strengths

Plays fast with very good football quickness and agile footwork. A high effort and energy rusher who plays with obvious passion and intensity — relentless and tenacious motor. Fast in pursuit with good chase skills to track down the action.

Good get-off momentum and anticipation — instinctive defender who locates the ball quickly. Extremely active and plays with an aggressive playing nature and attitude — self-starter and strong finisher. Country strong and very physical, welcoming contact.

Fights and works hard to find a way to beat blockers — disruptive with a nose for the ball. Versatile defensive player with experience at LB, DE and other hybrid front-seven positions.

A creative pass rusher, using a variety of moves and techniques to create pressure. Tough and durable with a productive collegiate resume (33.0 tackles for loss and 20.5 sacks), starting the final 37 games of his career in Boise.

Weaknesses

Not a quick-twitch player and lacks natural explosion — not an elite athlete. Has only average functional size and strength, lacking the natural power and length to overwhelm blockers at the next level.

Too energetic at times and often over pursues his target — can be overaggressive and take himself out of the play.

Lacks a natural position for the next level and won't be at his best if he's locked into one spot.
ON THE CLOCK: Green Bay Packers, GMÂ Bob Devine