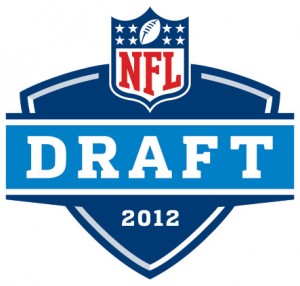 Pick twenty-five is classic, pick twenty-six is fresh.
Get all of look of the whole schedule and previously selected players here.
Last three picks
23. 

 Cordy Glenn, OT, Georgia
24. 

 Mike Adams, OT, OSU
25. 

 Kendall Wright, WR, Baylor
Due to a trade with the Denver Broncos, today's GM is VinceMarine
With the twenty-sixth pick of 2012 Interactive Mock Draft, the Houston Texans select…
26.

Jonathan Martin, OT, Stanford
The Houston Texans surprised a lot of people with the way they performed last year. They ranked in the top ten in pass and run defense. A lot of credit needs to be given to Wade Phillips for that however; you can't overlook the play of J. J. Watt, Antonio Smith, Connor Barwin and defensive leader Brian Cushing.

Not to be out done, the offense was pretty good in its own right. They also ranked in the top ten in pass and run offense. The zone blocking scheme employed by Gary Kubiak and his staff have Arian Foster looking and performing like the best running back in the NFL. The pass offense would have been better if Matt Schaub had been healthy. T.J. Yates did perform well enough to win some games, but the loss of Schaub was definitely felt.

The Texans made the divisional round of the playoffs and appeared to be a serious contender for the Superbowl last year. With that being said the team still has needs. This offseason the team lost Mario Williams, Eric Winston, and Mike Brisiel; all three were key starters last year. Both Winston and Brisiel started on the right side of the offensive line last year and losing them both could mean drafting an offensive lineman.

The loss of Williams won't hurt as bad because the defense really stepped up in his absence. The defensive depth will not have them picking a pass rusher here but it could be a possibility. The most glaring need is at wide receiver. When Andre Johnson was lost to a hamstring injury the passing offense really suffered. The only thing that kept the team scoring points was the fact that they could run the ball. Many have the Texans selecting the best wide receiver available here.

After looking how the draft has fallen, the top four wide receivers have been taken. It would be a reach here to draft someone like Ruben Randle from LSU. This season keeping Schaub upright is tantamount. This will be especially important if the team wants to make it to the Super Bowl. Selecting Jonathan Martin here will help ensure that the team adds depth and possibly a starter to replace Winston. Martin is a top ten talent who has fallen in the draft so getting him here is good value.

With the 26th pick of the 2012 NFL draft, the Houston Texans select OT Jonathan Martin from Stanford.
ON THE CLOCK: New England Patriots, GMÂ Digger