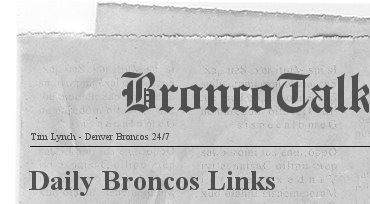 Win a custom commissioned sports athlete portrait – valued at $300!
Locked In | DenverBroncos.com (Video)
Von Miller is taking advantage of a full offseason program to build off of his rookie year.
Broncos will find depth at RB in draft, but not in first round | Denver Post
Just how high of a profile that new back has remains to be seen. That said, there is some depth on the board overall at the position, but that depth really comes through in the second and third rounds — i.e., the second day of the draft.

Eric Decker assuming bigger role in Broncos' offense | Salt Lake Tribune
Eric Decker's stock is rising in the eyes of the Denver Broncos and quarterback Peyton Manning.
NFL schedule: Broncos, Titans among teams that got hosed | NFL.com
The 2012 NFL schedule has been unveiled. Looking through the slates for all 32 teams, which organization was dealt the toughest hand?
NFL mock draft: Broncos juggling need and impact, like many teams | Denver Post
There is one week before NFL commissioner Roger Goodell steps to the podium to address the football nation in primetime.
Broncos have hit and missed with recent top NFL draft choices | Denver Post
In Peyton Manning, the Broncos are trying to take the ultimate short cut. If Manning can play quarterback at the level he did before his neck injury, the Broncos can overcome some of their unfortunate draft picks of the past 11 seasons.
Denver Broncos seeking impact player in first round of NFL draft | Denver Post
The Broncos have spent a lot of Pat Bowlen's money in free agency this year, but they insist they're committed to building the team through the NFL draft.
NFL draft preview: Offensive line | Denver Post
1. Matt Kalil, T, USC, 6-foot-6½, 306 pounds. The best left tackle on this year's draft board, so he will be the first offensive lineman taken.
Von Miller sizes up some 2012 draft prospects | Pro Football Talk
They say that everything is bigger in Texas. From hats and boots to steaks and cattle, the Lone Star State has its fair share of massive products. Turns out, the saying applies to football rivalries too.
Rosterology: Stokley gets No. 14 back | First and Orange
It'll be a few more weeks yet until the Broncos will actual don practice jerseys, but most of the team's newest players have picked the numbers they will sport at camp this summer.
Broncos Draft Prospects – RB Chris Polk | Mile High Report
Washington Huskies Running Back Chris Polk has been projected to the Denver Broncos with their 2nd-round (57th overall) pick. Polk doesn't have a workout or a visit to Dove Valley scheduled at this time, but Mike Klis from the Denver Post has suggested that the 2011 1st-Team All-Pac-12 Running Back is on Denver's radar. So let us see what Chris Polk has to offer.
Scheme and Technique, Fitting a Round Peg into a Round Hole | Mile High Report
In the first installment, we covered the basics of scouting defensive lineman. In this installment, we're going to cover scheme and technique fit. These questions will help to fine tune the process for picking a defensive lineman. After all, we don't want to be a Josh McDaniels and try to pound a round peg into a square hole.
Scouting the Broncos: Tracy Porter on film | IAOFM
The date is November 28, 2011. The location is New Orleans, LA. Tracy Porter doesn't know it yet, but he's going to have one of the most productive games of his life in terms of tackling, in just a few hours.
Looking Ahead To Week 1: Steelers At Broncos | Predominantly Orange
The Denver Broncos kickoff their season the same way that they ended their 2011 campaign at home. They host the Pittsburgh Steelers on Sunday night football in what is sure to be another hyped matchup.
Denver Broncos' 5 Biggest Games of 2012 | Bleacher Report
Ouch. We all knew the schedule for 2012 would be daunting, but to actually see the games arranged in home and away schedule, as well as which weeks the Broncos face certain opponents, and the reality sets in: The Broncos have their work cut out for them this season.
2012 Denver Broncos Cheerleader Finalists
Your finalists for the 2012 Denver Broncos Cheerleader squad!