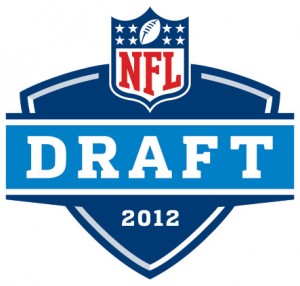 Pick twenty-four is classic, pick twenty-five is fresh.
Get all of look of the whole schedule and previously selected players here.
Last three picks
22. 

 Stephen Hill, WR, Georgia Tech
23. 

 Cordy Glenn, OT, Georgia
24. 

 Mike Adams, OT, OSU
Due to a trade with the Denver Broncos, today's GM is @bertjanb
With the twenty-fifth pick of 2012 Interactive Mock Draft, the San Francisco 49'ers select…
25.

Kendall Wright, WR, Baylor
A note from the Commissioner
The San Francisco 49'ers have traded with the Denver Broncos.

The 49'ers will receive:

The Broncos 2012 1st round pick (720 pts)

The Broncos will receive:

The 49'ers 2012 1st (620 pts)
The 49'ers 2012 2nd (292 pts)
The 49'ers 2013 3rd (est. 140 pts)
The Story, as told by GM bertjanb
The San Francisco 49ers surprised many fans by turning the franchise around, finishing the season in the NFC Championship against the New York Giants, who would move on to win the Super Bowl. Coach Jim Harbaugh, though only in his first year as an NFL head coach, proved that he has what it takes to lead this team to the promised land.

The 49ers' defense led the team to its first NFC West Championship since 2002, and it became the first defense in NFL history to not allow a rushing touchdown through the first 14 weeks of the season. Most importantly, the team was able to retain all 11 starters by resigning pass rusher Ahmad Brooks and cornerback Carlos Rodgers while franchising safety Dashon Goldson.

While the team can use the draft to add depth on positions such as cornerback, safety and defensive end, retaining the defensive starters allows the team to add an offensive weapon to the team with their pick in the first round. The 49ers resigned quarterback Alex Smith, but he will need more help, both on the offensive line and additional receivers. The team signed Randy Moss and Mario Manningham, but both are low risk-high reward pickups.

The original plan was to draft Coby Fleener here, who, as a tight end from Stanford, has an obvious connection to coach Jim Harbaugh. With teams trying to copy the Patriots success by adding dynamic tight ends, a tight end combination with Fleener and Vernon Davis would create matchup problems for defenses.

However, with Kendall Wright still on the board, the San Francisco 49ers can't pass on picking up Robert Griffin III's go to receiver. Though he lacks size (5-10), Wright is an ideal down field threat who has proven he can score on any play. He has experience both on the outside and in the slot and has shown he is a reliable pass catcher on both intermediate and deep routes.

Another option would have been adding a right guard, but selecting a guard here would have been a reach.
ON THE CLOCK: Houston Texans, GMÂ VinceMarine