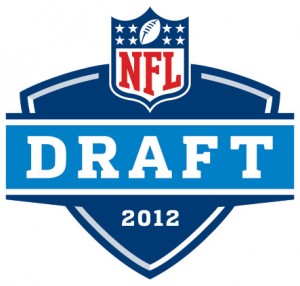 Pick twenty-three is classic, pick twenty-four is fresh.
Get all of look of the whole schedule and previously selected players here.
Last three picks
21.

Dre Kirkpatrick, CB, Alabama
22. 

 Stephen Hill, WR, Georgia Tech
23. 

 Cordy Glenn, OT, Georgia
Today's GM is mikebirty
With the twenty-fourth pick of 2012 Interactive Mock Draft, the Pittsburgh Steelers select…
24.

Mike Adams, OT, OSU

After a humiliating playoff defeat to the Denver Broncos the Steelers were sent home to lick their wounds a lot earlier than they expected.  The Steelers are not an organisation which celebrate *just* reaching the playoffs, when they play the game they either win or they die.

There are several ways the Steelers could go with this pick and most of this will sound familiar.  They have a need at inside linebacker where James Farrior was cut so they would be happy to see one of the top inside linebackers fall to this spot.  They need help on the defensive line where Casey Hampton is old and injured so a new nose tackle is becoming a priority.

Troy Polamalu isn't getting younger and ideally I think the Steelers would like to get his long term sucessor on board this year.  They'll also be looking for a long term solution as a back up QB and will be in the market for some mid-round QBs.  The Steelers will pick a running back too, probably in the second round.  So far the needs are similar to Denver.

But the offensive line is a mess and needs fixing.  Winter is coming and they have a second year right tackle moving to the left side, a back up Center playing guard and a utility player in Willie Colon playing right tackle, when he's healthy. And even when he's healthy he's not very good.

Pittsburgh don't have the luxury of waiting and taking the best player available this year and I wouldn't be surprised to see them move up in the draft to get a higher rated offensive lineman.  In this case the best tackle available is Mike Adams.  He is athletic and strong and a good run blocker who can be dominant.

The Steelers shouldn't be worried about some slight character concerns such as Adams being one of the five OSU players suspended for the first five games of 2011 due receiving improper benefits from a tattoo parlour and they shouldn't worry about him being charged with possession of drug paraphanalia either.  The Steelers have the sort of locker room that can deal with someone like that.  After all it has been two whole years since their QB was suspended.
ON THE CLOCK: San Francisco 49'ers, GM @bertjanb