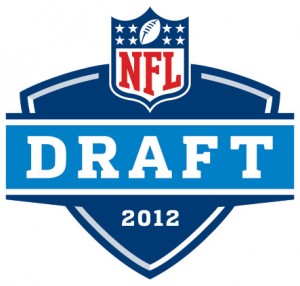 Pick twenty-two is classic, pick twenty-third is fresh.
Get all of look of the whole schedule and previously selected players here.
Last three picks
20.

Michael Brockers, DT, LSU
21.

Dre Kirkpatrick, CB, Alabama
22. 

Stephen Hill, WR, Georgia Tech
Today's GM is herc_rock
With the twenty-third pick of 2012 Interactive Mock Draft, the Detroit Lions select…
23.

Cordy Glenn, OT, Georgia

For the first time since Barry Sanders retired, the Detroit Lions are relevant again. They have an elite unit on one side of the ball and the pick here is to solidify that unit. Picking up the mammoth (6'6″, 345 lbs) Cordy Glenn will go a long way in protecting the injury-prone Matt Stafford's blind-side and should help clear a path for injury-prone Lions running backs for the next decade.

Starting LT Jeff Backus is elderly by NFL standards, entering his 13th year and starter at RT Gosder Cherilus has been a bit of a disappointment so far in his career. Glenn may be able to step in at RT immediately. If not, he would be an exceedingly valuable backup since he can play any position on the line except C.

The other option here is shoring up the defensive backfield or linebacking corps, but Detroit's D is better than most think, ranking 9th in overall DVOA and surprisingly, 4th against the pass.

No, the defense can be addressed in later rounds (although they were stripped of a seventh round pick – the Alphonso Smith pick – by the league thanks to a tampering charge involving Gunther Cunningham publicly pining away for KC players for some reason). Glenn is the right move here.

Keep building one of the best offenses in the league, add some depth, keep improving, things in Detroit are actually looking up.
ON THE CLOCK: Pittsburgh Steelers, GM mikebirty