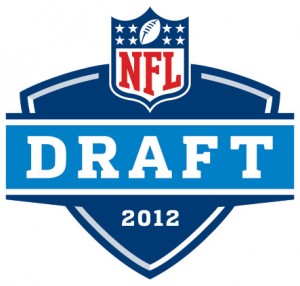 Pick twenty-one is classic, pick twenty-two is fresh.
Get all of look of the whole schedule and previously selected players here.
Last three picks
19.

Dont'a Hightower, LB, Alabama
20.

Michael Brockers, DT, LSU
21.

Dre Kirkpatrick, CB, Alabama
Today's GM is Eljbow
With the twenty-second pick of 2012 Interactive Mock Draft, the Cleveland Browns select…
22.

Stephen Hill, WR, Georgia Tech

Now that the Browns have reached to draft a franchise QB, it's time to address another position of need and get a solid WR.

A review of the current Browns roster shows a lot of middling talent at the WR position, but no stand out number 1 player. Guys like Greg Little, Mohamed Massaquoi and Josh Cribbs each bring different talents to the table, but they don't bring that "It" factor to the position. That changes today.

When looking at available first round targets, there were only three true options for the Browns: Justin Blackmon, Michael Floyd, and Stephen Hill. With Blackmon and Floyd being taken in the top 10, a price too high for Mike Holmgren, this leaves Stephen Hill as the last remaining option in the first round.

Hill had a strong combine showing great speed with his 4.36 40 and looked solid in the various position drills throughout his stay in Indianapolis. His addition will give the Browns the deep-threat needed to spread opposing defenses and open up the offensive playbook in coming years.

This selection fills a need for the Browns by adding a talented, deep-threat WR to supplement the earlier Tannehill pick. Additionally, drafting Hill also affords a later round choice for use on a RB like Lamar Miller, David Wilson or Chris Polk.

With the foundations being laid in this draft, the Browns can finally move away from being a complete laughing stock and become only a partial laughing stock.
ON THE CLOCK: Detroit Lions, GM herc_rock