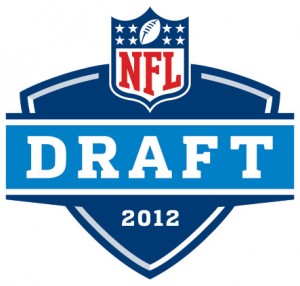 Pick nineteenth is classic, pick twentieth is fresh.
Get all of look of the whole schedule and previously selected players here.
Last three picks
17. 

 
Fletcher Cox, DT, Mississippi State
18. 

 
Drew Butler, P, Georgia
19. 

 
Dont'a Hightower, LB, Alabama
Today's GM is Andrew Strickert of TotalTitans.com
With the twentieth pick of 2012 Interactive Mock Draft, the Tennessee Titans select…
20.

 Michael Brockers, DT, LSU

Unfortunately, the players who could help the Titans the most have already been selected. The Titans' two major needs are defensive end and guard/center but Quinton Coples, Melvin Ingram and David DeCastro are all gone. Defensive tackle is another need and Fletcher Cox would be a great addition, but he's no longer available.

On the bright side, DT Michael Brockers has somehow slipped in this mock and I'll happily claim him for the Titans. Brockers is ranked as the 13th best overall prospect on Walter Football's consensus big board (a compilation of the major big boards), so he provides good value and he fills a need for Tennessee.

Former second-round draft pick DT Sen'Derrick Marks has been a huge disappointment for the Titans and free agent acquisition Shaun Smith was a non-factor last year, so Brockers will fit very nicely next to Jurrell Casey, giving Tennessee a pair of strong run-stuffing DTs.

The young redshirt sophomore is still growing and developing and will be expected to add even more value as an interior pass rusher in the future but for now, the Titans are delighted to have him bolster the middle against the run, which has been a problem ever since Albert Haynesworth left.

If Brockers was no longer available in this mock, I probably would have selected Cordy Glenn for the Titans, to fill their vacant right guard spot. WR Kendall Wright and CB Dre Kirkpatrick were also considered as value picks, though not to fill needs.

One thing I'd like to point out is that a lot of mock drafts have the Titans selecting a corner at #20, with the reasoning that since they lost Cortland Finnegan in free agency then corner is a strong need. I can tell you that corner is not a need for the Titans. They are confident in the ability of Alterraun Verner, who was their third corner last year, and his ability was the reason why the Titans didn't make Finnegan an extravagant offer to remain in Tennessee. Most knowledgeable observers don't expect the Titans to select a corner early in the draft, unless one happens to be the best player available on their board.
ON THE CLOCK:Â Cincinnati Bengals, GMÂ Crushsg