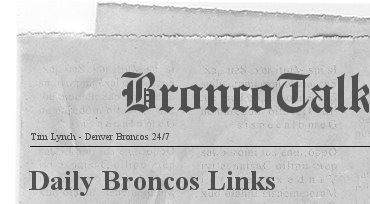 Win a custom commissioned sports athlete portrait – valued at $300!
IMLTHO*: Of Peace, Quiet and Clarett | MaxDenver.com
Thoughts on organizational culture, Maurice Clarett and the influences on Fox and Elway are on my mind as Friday dawns.
Kuper focuses on comeback after gruesome ankle injury | Denver Post
There was pain, agony and near hysteria as the ankle contorted almost completely backward. None of these sickening reactions, though, were from the guy with the mangled ankle.

Demaryius Thomas Not sad Tebow's Gone | National Football Post
If you thought the feelings regarding Tim Tebow's status as the savior of the Denver Broncos in the media's eye were exactly how it was in the team's locker room, it'd be difficult for anyone to truly argue otherwise. However, wide receiver Demaryius Thomas — the other half of the 80-yard overtime touchdown pass against the Steelers in the playoffs — indicated that the internal feelings on the team's former quarterback may not have been what they were believed to be.
Tim Tebow, President? Why QB should swap pigskin for pulpit | NFL News
Tim Tebow, part-time icon, showed up last Sunday at the Easter service of Celebration Church in Georgetown, Texas, to answer a few questions on stage. More than 15,000 devotees showed up, too.
Alabama cornerback Dre Kirkpatrick is on Broncos' short list, with an asterisk | Denver Post
For all the numbers that can swirl around an NFL prospect before the annual draft, there is one that concerns some in the league about Alabama cornerback Dre Kirkpatrick.
A&M's Cyrus Gray a good fit for West Coast offenses | Denver Post
Miller was Gray's teammate for three seasons — Gray started eight games as a freshman in 2008 — and when asked, Miller has consistently said Gray has the all-around game the NFL wants in a running back.
Peyton Manning amped about 'critical' work with Eric Decker | Sporting News
Peyton Manning is excited about his offseason throwing sessions with Denver Broncos wide receiver Eric Decker, believing it will benefit them next season.
Todd McShay Thinks Broncos Could Go For A DT, CB Or Trade Based On Three Scenarios | SB Nation
The Denver Broncos hold the No. 25 pick in the 2012 NFL Draft, and with needs at defensive tackle, cornerback and along the offensive line, there are plenty of directions they could go. It all depends on how the draft landscape develops when the picks become official, which is why Todd McShay's latest 2012 NFL Mock Draft breaks down multiple scenarios for Denver's late-round selection.
Learning from history – Super Bowl winners' draft strategies | MileHighReport
Almost all of the recent discussion on MHR has focused on the draft. One big point of debate has become where the Broncos should spend their high draft picks – on the defensive side of the ball or on the offensive side of the ball.
Whatever Happened to Arkansas and Denver Broncos Legend Steve Atwater? | Bleacher Report
In recent weeks we've brought you a couple of quarterbacks who just didn't pan out in the NFL and a big-time linebacker who had his career cut short by injury. Today, with all the Arkansas bad news swirling around, we figured we'd go in the opposite direction.
2012 NFL Draft Preview: Defensive Ends | DenverBroncos.com
This year's top pass rushed prospects talk about preparing to play in the NFL.
2012 NFL Draft Preview: Defensive Tackles | DenverBroncos.com
Some of this year's top defensive tackle prospects talk about why they're ready to play in the NFL.