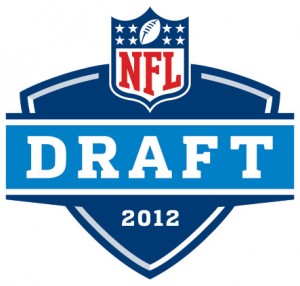 Pick eighteen was so three hours ago, pick nineteenth is now.
Get all of look of the whole schedule and previously selected players here.
Last three picks
16. 

 
Courtney Upshaw, OLB/DE, Alabama
17. 

 
Fletcher Cox, DT, Mississippi State
18. 

 
Drew Butler, P, Georgia
Today's GM is Louie
With the nineteenth pick of 2012 Interactive Mock Draft, the San Diego Chargers select…
19.

 Dont'a Hightower, LB, Alabama

As we exited the 2011 season, gaping wounds were evident. An arm like Jay Cutler and we can't reap the bounty of a 1000 yard receiver. Well, at least we were better than the Vikings. Having the fifth worse pass defense in the league is a poke in the eye. Fifth most sacks is like, well, five kicks in the sack. Where do you start?

The Bears applied some needed first-aid thru free agency. CPR was applied via the pickup of Brandon Marshall. Cutler and Marshall together again. Oh, the sweet sound. J&B. But which/what Marshall will show up? If these two can revive their Bronco glory, the Bears will possess a formidable offensive arsenal both on the ground and now in the air. If not, well, there is always old Roy. He still has 500 yards in him. I hope.

The addition of Kelvin Hayden and Jonathan Wilhite will provide some needed depth at cornerback. Hayden is a seasoned veteran that will challenge Jennings to start on the left. The sucking chest wound is still a concern. Sacks (and subsequent injury) must be reduce dramatically.

Cutler was under pressure too much last year. A left OT is needed. There is a good crop of big tackles this year and one can be had in round 2 or 3. Anyway, I'm old school. No linemen in the first round. Another reason for someone having to keep picking Cutler up off the carpet was NO TARGETS. Cutler is capable of twice the yards he had last year. He just needs someone to catch it. Oops. I guess Marshall isn't the answer (jk). Jay will just have to throw twice as many passes. Seriously, with Marshall to keep the defense honest, it should take a lot of pressure off the young offensive line and and allow Cutler to take advantage of his quick release.

'So tell me where it hurts', you say? The Chicago Bears are going to take the old ounce of prevention. Building for the future. The Bears have been blessed with having one of the best to ever play the position but Brian Urlacker will be a 34 year old UFA at the end of the season. The pain that this potential loss will have cannot be ignored.

With that in mind, the Bears have selected one we feel has the ability to fill that role and contribute immediately at a high level; Dont'a Hightower. The guy is a brickwall. A punisher. Dont'a is a complete package. He is a man of high character and leadership. We cannot go wrong with this pick. He will be the foundation of our defense for years to come just as Brian has been throughout his career.

DA BEARS!
ON THE CLOCK:Â Tennessee Titans, GM Andrew Strickert of totaltitans.com