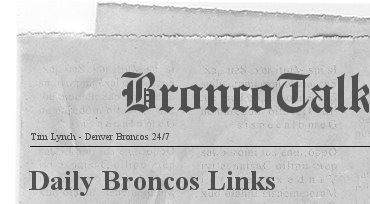 Win a custom commissioned sports athlete portrait – valued at $300!
Hi all! Â I got a late start this morning, but there is lots of good Denver Broncos news out there today. Â Enjoy!
Manning Settled In | DenverBroncos.com
Peyton Manning talks about working out at Dove Valley and the importance of falling back into his April routine.
Let's Forget About the Draft for Just a Minute | Draft Metrics
This is a very interesting time of year for a fan of NFL football. Free agency is in full swing and the draft is drawing close. The focus within the league is on making personnel decisions, both in acquiring new talent and deciding whether to retain players on the current roster.

Broncos Bolster DT Depth with Bannan | Max Denver
Sometimes, you're not looking for greatness; you just want a guy who can do the job, be a solid pro and ensure you have depth.
Justin Bannan back with Denver Broncos' defensive line | Denver Post
As it turned out, Justin Bannan never left the Broncos. He just took a one-year detour to St. Louis.
Trading out of draft's first round to acquire more picks an option for Broncos | Denver Post
Any NFL team needing help at a deep position in the draft and holding a pick in the bottom third of the first round will consider trading out of the first round.
U. of Cincinnati DT Derek Wolfe can contribute as NFL rookie | Denver Post
If a guy can sneak up on the NFL draft, Cincinnati defensive tackle Derek Wolfe could be that person this year.
Peyton calls work with Denver WRs 'rewarding' | ABC Local
Denver Broncos quarterback Peyton Manning called his offseason throwing with receiver Eric Decker "rewarding" and "critical" and said the workouts are helping him get back into the groove.
Can Peyton Manning Lead Denver Broncos to a Super Bowl? | Opposing Views
So Peyton Manning is a Denver Bronco. Some fans are happy, some are sad, and some still want Tim Tebow, who was traded to the Jets.
Utah State RB Robert Turbin to visit Broncos | First and Orange
Every now and then, NFL teams will like a college prospect more than the draft mockers.
Beadles provides breakfast with the Broncos | First and Orange
Like pancakes? Like the Broncos? Like doing the right thing? Zane Beadles has an offer for you.
Truth or Myth? Part I:The rushing game and the clock control | MileHighReport
Let me start mentioning from where I had the idea to make this research. I was thinking about how badly we really need talent at DT (as usual) and if we need it more now with Peyton Manning on the roster or not.
Fat Camp: Understanding the Manning offense – Part 5 | IAOFM
Happy Wednesday, friends. Today we get back in the saddle with the technical series about the offense that I expect to see the Broncos run this season. Today, it's Part 5, where we'll discuss the five-step passing game.
Broncos TE Julius Thomas Has Important Offseason | Predominantly Orange
When the Denver Broncos selected tight end Julius Thomas in the fourth round (129th overall) of last year's draft, heads turned a little bit.
Denver Broncos 2012 Draft Blogversation Part 1 | Pro Sports Colorado
The Denver Broncos have already addressed a lot of holes via free agency following the signing of Peyton Manning. There are still many needs that will need to be satisfied via the 2012 NFL Draft.
5 Reasons Denver Broncos Fans Should Forget About Tim Tebow ASAP | Bleacher Report
Tim Tebow took the NFL by storm last year with his inspiring comebacks and pure will to win. There is no doubt that Tebow made the Broncos relevant again in the NFL.
Tebow vs. Tannehill | NFL Videos
Current Broncos and former Texas A&M LB Von Miller answers the question: Who's a better athlete, Tim Tebow or Ryan Tannehill?
State of the Denver Broncos | NFL Videos
Broncos LB Von Miller stops by "NFL Total Access" to discuss the team's 2012 schedule, Peyton Manning and former teammate Tim Tebow.