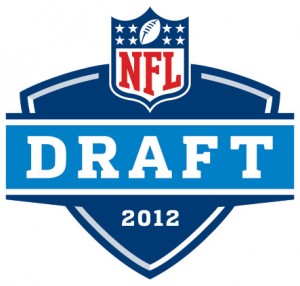 Pick sixteen is old, pick seventeen is new.
Get all of look of the whole schedule and previously selected players here.
Last three picks
14. 

 Mark Barron, SS, Alabama
15. 

 
Luke Kuelchy, LB, Boston College
16. 

 
Courtney Upshaw, OLB/DE, Alabama
Today's GM is Crushsg
With the seventieth pick of 2012 Interactive Mock Draft, the Cincinnati Bengals select…
17.

 Fletcher Cox, DT, Mississippi State

Having two picks so close together is a great luxury. So with the first pick I am going best player available. With that being said Fletcher Cox is the pick.

Although defensive tackle is not our biggest need, it is nearly impossible to pass on a talent like Fox. Interior lineman don't usually make a huge impact right away and fortunately we wouldn't need him to even start. Cox would get some good chances to play in a rotation, and ease his way into being a star.

With three can't miss choices left for my next pick, I really like my chances of getting two future stars in the first round.
ON THE CLOCK:Â San Diego Chargers, GM Bronco Talk's very own Monty