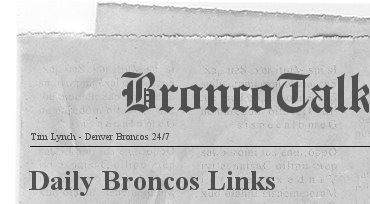 Win a custom commissioned sports athlete portrait – valued at $300!
Ghosts of Drafts Past: The Best and Worst Picks — QB | MaxDenver.com
It's pretty thin here. Like the air in Leadville. The best quarterback in Broncos history, some chap named Elway, played his entire career with the organization, but was acquired via trade.
NFL Players & Offseason Conditioning – An ounce of prevention | Football Educator
In 1984 my good friend Jeff Hays and I were stationed at the United States Air Force Academy as "Graduate Assistants" having just been commissioned Second Lieutenants the past summer.

West Virginia prospect Bruce Irvin ditches burglary, drug game for shot at NFL | Yahoo! Sports
Bruce Irvin stood in a drug dealer's house, his gun tucked away, searching for money. It never occurred to him that this might not be the best idea; that somebody might be home, that he might even get shot. In his mind he thought only one thing: "I'm going to get paid."
Parcells won't coach Saints in interim role this season | Peter King
It's looking more and more as though the Saints will fill their interim head coaching job from within — and not with a big-name coach like Bill Parcells.
Kiszla: Denver Broncos had better get defensive with their draft | Denver Post
The Broncos already took No. 18 out of mothballs, banished Tebowmania to New York City and gave up the keys to the Denver Mint. All for quarterback Peyton Manning.
Limited offseason workouts likely to stunt growth of young QBs | Denver Post
When Stanford quarterback Andrew Luck and Baylor quarterback Robert Griffin III are the first two players selected in the NFL draft April 26, immense, life-changing expectations will come along for the ride.
Boise State's Doug Martin worth a Broncos look in first round of NFL draft | Denver Post
NFL teams like Boise State players. Year in and year out, they are considered by NFL personnel people to be among the most disciplined players on the draft board in terms of assignment football.
Peyton Manning Working Every Day with New Denver Broncos Teammates | Yahoo! Sports
Peyton Manning has wasted no time meeting and greeting his new teammates in Denver since he was signed by the Broncos three weeks ago. Since he arrived in Denver, Manning has apparently spent most of his time in the Denver area working with several wide receivers and offensive lineman.
State of the Broncos: North Dakota | First and Orange
There are two, and only two, NFL players who played their college ball in the state of North Dakota, according to ESPN.com.
Denver Broncos 2012 Draft Needs: Should the Team Trade Their 1st-Round Pick? | Bleacher Report
Anyone listening to the radio in Denver might have caught former Broncos GM Ted Sundquist talking draft on 104.3 The Fan, and those who stuck around to the end of the interview were treated to an interesting proposition.
Denver Broncos: 5 Priorities for the NFL Draft | Bleacher Report
Following a free-agency period that saw the Denver Broncos haul in one of the biggest free agent acquisitions in NFL history in the form of Peyton Manning, there is still much work needed to complete the roster.
2012 NFL Draft Preview: Running Backs | DenverBroncos.com
LaMichael James, Trent Richardson and David Wilson talk about why they're ready to carry the ball in the NFL.
Can Peyton Lead Broncos To Super Bowl? | ESPN
First Take discusses Eric Decker's comments on Peyton Manning, and if they believe Peyton Manning can lead the Broncos to the Super Bowl.