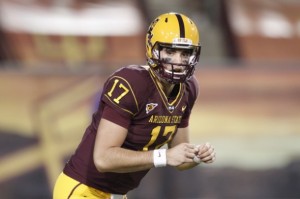 Brock Osweiler, QB, ASU
Height:Â 6'7

Weight: 242

Forty:Â 4.94 (pro-day)

Starts:Â 15

Record: 8-7

TD-INT: 33-15
Brock Osweiler is hot on Denver's radar. Five days ago, John Fox,  Mike McCoy, Adam Gase, Brian Xanders, and John Elway made the trip down to Tempe, Arizona to hold a private workout with Osweiler. If the Broncos liked what they saw, then you better believe that he'll be sitting high on the draft board.
Background
Brock Osweiler is a six foot, seven inch tall, quarterback from Arizona State University. Originally, Osweiler was committed to Gonzaga to play basketball.

However, in the wake of his surging football skills he chose to play for Arizona State over Stanford and Washington State.

Osweiler played in games throughout his freshman year sparingly and he started the last two games of the season his sophomore year. He was handed the reins of the offense in his junior season, this last year.

Osweiler only has one full season of starts under his belt.
Season Analysis
During his starting season he completed 63% of his passes for 4,036 yards, 26 TDs and 13 interceptions.

At the beginning of the season he lead the Sun Devils to a 5-1 record. The rest of the season did not got as well, ASU finished the regular season beaten and bruised with a 1-5 record.

Somehow the Sun Devils qualified for a Bowl Game, and they were embarrassed 56-24 by Boise State.

Osweiler had two big wins last season. One win was over Missouri, which was ASU's first win over a ranked team since 2007. The other win was against USC, which was ASU's first win over USC in 11 games.

In both of those wins, Osweiler showed a lot of heart and willingness, but his offense limited him to screen and swing passes.
USC Game
On one drive against USC, Osweiler threw the same screen, to the same side, four times. Sadly, USC could not defend the play and it resulted in a touchdown and aided the Sun Devils in their 43-22 rout over USC.

Bottom line

USC was not prepared for this game, Matt Barkley specifically. Osweiler played one of his best games all year and showed flashes of brilliance.

Arizona State running back Cameron Marshall really carried the game though with 141 yards rushing, 5.6 yards per carry, and 3 touchdowns.
Missouri Game
During the Missouri game Osweiler was looking to bring the Sun Devils up to 30 points from 23. In search of a touchdown he threw up a wild pass, but the play resulted in a defensive pass interference call.

A few plays later Osweiler took advantage of a broken defensive play and scampered into the end zone for the touchdown. Missouri would come back and tie the game up and miss a field goal to send it into overtime.

In overtime Osweiler's screen passes proved fatal to the Tigers as he his 11 yard screen pass resulted in the game winning touchdown.

Bottom line

Osweiler was cool under pressure in this game, but he was heavily aided by the pass interference call and the ability of his running backs to make defenders miss on the screen passes.

Osweiler did have one great 60-yard bomb for a touchdown that really showed off his arm strength and ability to be accurate with the deep ball.
Boise State Game
During this trifling loss, Osweiler threw an absolutely horrible pick-six in the red zone, forcing the ball to his receiver without even looking anywhere else.

Osweiler did not do well underneath pressure all season and Boise State smelled the blood in the water. The Boise State defensive line swarmed Osweiler all game and barely gave him anytime to breathe.

Bottom line 

The previously mentioned pick-six is a perfect representation of Osweiler's performance that game. All game Osweiler forced his throws regardless of the coverage.

He knew they were down and they needed a big play to lift them back into the game, but he was way too entirely reckless and contributed to the disaster.
Overall Analysis
Brock Osweiler is no doubt a project. It is not entirely certain why he chose to forgo the rest of his eligibility to enter the draft early.

Osweiler would have really gained a lot of needed experience by staying an extra year and leading a promising Arizona State team.

Many scouts criticize Osweiler for his sidearm throwing motion and his low release point, especially for how tall he is. During a couple games last season Osweiler also would botch perfectly snapped balls.

Osweiler did not take very many, or possibly any at all, snaps under center either. His pro-readiness is extremely low and a team would have to be dedicated to his growth.
Player comparison 
Derek Anderson – Both Anderson and Osweiler are big, strong armed, former PAC-12 players. Anderson is known for his erratic passes and poor decision making at times. Those tendencies also appear in Brock Osweiler as well. Anderson had a Pro Bowl season is 2007, but the rest of his career has fallen flat since then.