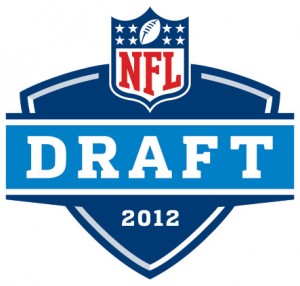 Pick fifteen was so yesterday, pick sixteen is now.
Get all of look of the whole schedule and previously selected players here.
Last three picks
13. 

 
Riley Reiff, OT, Iowa
14. 

 Mark Barron, SS, Alabama
15. 

 
Luke Kuelchy, LB, Boston College
Today's GM is Joe Caroposo
With the eleventh pick of 2012 Interactive Mock Draft, the New York Jets select…
16.

 Courtney Upshaw, OLB/DE, Alabama

The Jets need to improve their pass rush off the edge along with find a long term replacement for Bryan Thomas. Upshaw is the type of player who could immediately make an impact, especially with Rex Ryan's creativity on defense. I am not sure if he has the explosiveness to consistently be a double digit sack guy in the NFL but at a minimum, he should be an improved, younger version of Calvin Pace. A player who can stop the run, set the edge in the 3-4 and provide 6-8 sacks a season.

The Jets would take a long look at Mark Barron or Michael Floyd if they were still available but with both gone, along with Melvin Ingram, Upshaw is the most sensible pick. Ryan hasn't been shy about expressing his love for Upshaw's game and his respect for Alabama's defense last season and he would enjoy the opportunity to mold Upshaw into a versatile weapon for his front seven. I wouldn't be surprised if the Jets had Upshaw drop some weight from his reported 279 pounds to try to make him quicker for when he has to drop back into coverage or when they are sending him off the edge.

Upshaw may not turn into a home run pick but he has very low bust potential and should develop into a key part of the Jets defense for years to come alongside Muhammad Wilkerson, last year's first round pick, stud inside linebacker David Harris and All-World corner Darrelle Revis.
ON THE CLOCK:Â Cincinnati Bengals, GM Crushsg