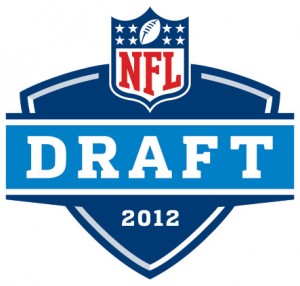 Pick fourteen is in the books, pick fifteen is fresh off the press.
Get all of look of the whole schedule and previously selected players here.
Last three picks
12. 

 David DeCastro, OG, Stanford
13. 

 
Riley Reiff, OT, Iowa
14. 

 Mark Barron, SS, Alabama
Today's GM is Irish Bronco
With the eleventh pick of 2012 Interactive Mock Draft, the St. Louis Rams select…
15.

 Luke Kuelchy, LB, Boston College

Having acquired First Round draft picks in 2012, 2013 and 2014 as well as an additional 2nd Round pick this year from Washington for the 2nd overall pick, the St. Louis Rams felt there was still room for movement in this draft and decided to trade further back with the Philadelphia Eagles to the 15th overall pick. To move back from 6th to 15th, we managed to obtain the 15th overall pick, the Eagles' 2nd and 3rd round selection this year, their 2nd round pick next year and cornerback Asante Samuel. In summary of our movement from the 2nd overall pick to the 15th overall pick, we now own the following:

15th overall selection 2012 Draft
2 – First round picks in 2013 and 2014
3 – 2nd round picks in 2012 draft
2 – 3rd round picks in 2012 draft
2- Â 2nd round picks in 2013 draft
Asante Samuel




As an organisation we are more than excited with the amount of quality draft picks we have managed to obtain to move down 13 spots in the draft. In addition, we have also been able to help our secondary by acquiring a Pro Bowl calibre player in Asante Samuel. In further addition, we are now able to select a player we have coveted throughout the Draft process.

With the 15th overall selection, we have decided to take Luke Kuelchy, LB, Boston College. We feel that Luke will be able to slot into our LB corp's immediately and have a real positive impact. Having seen the success of the San Francisco 49ers last year based on the strength of their defence, we felt it was important to address that side of the ball as a matter of highest importance.

Having acquired quite an array of picks, it is anticipated that our organisation may not be finished making moves in the First Round of this year's draft, so stay tuned Rams fans.
ON THE CLOCK: New York Jets, GM Â Joe Caroposo