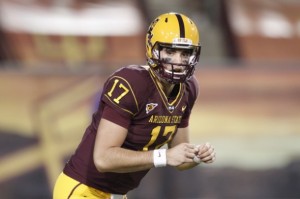 You see it almost every draft. It is a passing league they say. Perhaps that's why every year some young gunslinger goes at least two rounds too high.
Here's a list of quarterbacks who went higher than their value since 2003.
Byron Leftwich – 2003 (7th)
Rex Grossman – 2003 (22th)
J.P. Losman – 2004 (25th)
Jason Campbell – 2005 (25th)
Mark Sanchez – 2009 (5th)
Josh Freeman – 2009 (17th)
Pat White – 2009 (44th)
Tim Tebow – 2010 (25th)
Blaine Gabbert – 2011 (10th)
Christian Ponder – 2011 (12th)
In some of these selections, the reach was worth it. Josh Freeman is looking like he could have some serious potential, Christian Ponder showed some brilliance last season, and some do argue that Tim Tebow is successful since he has a career winning record and won a playoff game, with his arm no-less. However, you can see most of these choices were serious head scratchers.
The latest multi-million dollar victim of the hype machine is Brock Osweiler. Four days ago, John Fox,  Mike McCoy, Adam Gase, Brian Xanders, and John Elway himself made a trip down to Tempe, Arizona to hold a private workout with Osweiler. That's a lot of brass for one kid who is supposed to be a fourth round pick.
The Broncos are apparently looking really hard to find their successor to Manning already. Brandon Weeden sat down with the Broncos in a short 15 minute interview at the combine, but they Broncos reportedly came away impressed.
Make no mistakes, the stock of these two young quarterbacks is going sky high. Former Dallas Cowboys VP of Football Operations, Gil Brandt has stated that Osweiler is a first round pick. ESPN Draft Analyst Todd McShay also believes that some team just may take the risk on Osweiler in the first round.
I believe that some teams may just be desperate enough to draft the "NFL ready" Weeden at the end of the first round and Osweiler high in the second. It would not surprise me one bit if Cleveland drafts Weeden with their second first round pick they received in the Julio Jones trade.
If Denver is going to draft either Weeden or Osweiler they'll need to spend at least second round pick doing so. The real question is, are either of them worth taking that high?
Stay tuned for both draft profile pieces on Osweiler and Weeden.
What do you think Bronco fans? Is Brock Osweiler or Brandon Weeden worth a second round selection? Should the Broncos look to find Peyton's successor in this draft?