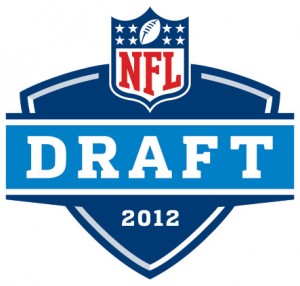 Pick thirteen was then, pick fourteen is now.
Get all of look of the whole schedule and previously selected players here.
Last three picks
11. 
 Dontari Poe, DT, Memphis
12. 

 David DeCastro, OG, Stanford
13. 

 
Riley Reiff, OT, Iowa
Today's GM is Joey Baldwin
With the eleventh pick of 2012 Interactive Mock Draft, the Dallas Cowboys select…
14.

 Mark Barron, SS, Alabama
Before I make the announcement let us look at the state of the franchise as it is now we has a Pro Bowl caliber QB, 2 quality RBs 2 stud WRs the best TE in football and we spent a 1st round pick last year on offensive line in Tyron Smith. Defensively we have the best OLB in the league DeMarcus Ware, and Sean Lee continues to be a force over the middle. Our organization has just signed Brandon Carr to a 5 year deal and brought in S Brodney Pool to help solidify the backfield.
On the defensive line the Cowboys boast Jay Ratlif and Marcus Spears. Defensively, we ranked 7th in rush defense, and 23rd in pass defense ranking in the middle at 16th total defense during the 2011 season. Our rush attack came to life behind DeMarco Murray and our passing offense was 7th in the league.
After having looked at the roster making this pick becomes increasingly important. With this pick we need to find a player that will have an immediate impact while also filling a position of need. At this point three offensive linemen have already been picked along with a DB and DT and 2 DE/OLB. Trading down was an option but having the option to take the best safety in the draft is just too appealing and so…
With the 14th overall pick in the 2012 NFL draft the Dallas Cowboys select out of Alabama SS Mark Barron. Barron has rare combination of size standing 6'2 218lbs and speed clocked as low as 4.47 40 but also brings leadership having been a staple for the National Champion Crimson Tide. We feel Barron will provide instant support in the pass defense allowing our defensive line to do what they do best and that is get to the QB.
ON THE CLOCK: St. Louis Rams, GM Â Irish Bronco.