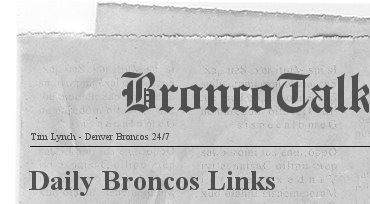 Win a custom commissioned sports athlete portrait – valued at $300!
Broncos' Peyton Manning a real pro at preparation | Denver Post
Peyton Manning has been the Broncos' starting quarterback for about three weeks, and soon the rest of his teammates will learn what Brandon Stokley has known for years. Manning is no ordinary quarterback and certainly no ordinary teammate.
The Rookie Salary Cap and Draft Strategy | Draft Metrics
One of the major changes in the 2011 Collective Bargaining Agreement between the NFL and the NFLPA was the introduction of a rookie salary cap that reduced rookie compensation. The chief bone of contention between the NFL and the NFLPA was not the cap itself, but what to do with the money saved by NFL teams. In the end the parties agreed that the money saved would benefit retired and current players.
Broncos won't give up future picks just because they have Manning | Denver Post
Soon after Manning put his name on the dotted line, the Broncos signed three receivers — wide receiver Andre Caldwell to go with tight ends Jacob Tamme and Joel Dreessen. They also made a concerted effort to sign Manning's former center in Indianapolis, Jeff Saturday.
Defensive end Quinton Coples is a complicated draft prospect to judge | Denver Post
There will always be two unshakable truths for the NFL draft. A prospect is never worse than he was the day before he is selected after surviving months' worth of grind-it-out evaluations.
Tim Tebow draws huge crowd to Texas church on Easter | Denver Post
GEORGETOWN, Texas — Tim Tebow drew a crowd of about 15,000 to an outdoor Easter church service Sunday, telling the gathering it's important to be outspoken about faith while admonishing athletes about not being better role models.
Broncos tight end Julius Thomas has surgery on ankle | Denver Post
Julius Thomas will always remember the 5-yard reception against the Cincinnati Bengals as his first NFL catch, but it also left him with a rookie season filled with frustration.
Kickin' it: Tim Tebow's amazing season was a once-in-a-lifetime thing | Denver Post
Repeat isn't in the cards. I get it that Tim Tebow strikes a chord with a certain segment of society because of how he carries himself. He's undoubtedly an exemplary young man, albeit a bit too much of a religious zealot for my tastes and others who like our sports sans religion. What I cannot understand is how people who claim to be Broncos fans do not see Tebow for what he is.
A.F.C. West Team Needs | NY Times
The sturdy 2011 starters Broderick Bunkley and Marcus Thomas both need to be replaced. (Bunkley signed in New Orleans, where good defensive tackles go to die, and Thomas is a free agent.)
Broncos work out Brock Osweiler, eyeing young QB to backup Peyton Manning? | CBS Sports
Despite signing Peyton Manning this offseason, the Denver Broncos still have a need at quarterback: Manning won't play forever, and the Broncos don't want to get caught with their pants down the way the Colts did in 2011.
That cartoon bird just won't stop smiling | Baltimore Sun
The Orioles break out the cartoon bird logo, and all of a sudden they're unbeatable.
Denver Broncos 2012 NFL Draft Q&A With Kim Constantinesco Of Predominantly Orange
The Denver Broncos made the biggest plash of free agency in 2012, possibly the biggest acquisition of all-time when they signed former Indianapolis Colts legend Peyton Manning. They still have some holes to fill, and the draft is where it will get done. We are conducting Q&As all around the FanSided network, and on the docket today is Denver Broncos blogger and editor of Predominantly Orange, Kim Constantinesco. Since I'm a Broncos guy, I'll be adding editor's notes where I feel necessary.
Champ Bailey and YAC and smoking crack | IAOFM
Earlier in the week, Football Outsiders reported that in 2011, Champ Bailey gave up more yards after the catch (YAC) than any other cornerback in the league.
You are a football God when | MileHighReport
1. the rest of the nation gets together and decides to change your middle name to 'freaking.'