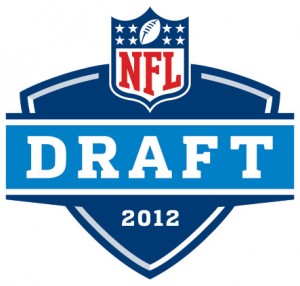 Pick tweleve is now history, pick thirteen is ready to be served.
Get all of look of the whole schedule and previously selected players here.
Last three picks
10. 

 Michael Floyd, WR, Notre Dame
11. 
 Dontari Poe, DT, Memphis
12. 

 David DeCastro, OG, Stanford
Today's GM is JR Victorian.
With the eleventh pick of 2012 Interactive Mock Draft, the Arizona Cardinals select…
13.

 Riley Reiff, OT, Iowa
For a brief but exhilarating 48-72 hour window last month Arizona Cardinal fans thought their team was on the verge of signing the highest profile free agent in NFL history, quarterback Peyton Manning. When the Cardinals decided to pay quarterback Kevin Kolb's $7 million offseason roster bonus, the decision formally removed Arizona from the Peyton Manning sweepstakes. A few of us blamed an AFC bias, some pointed to the contract figures, and others accused John Elway of dabbling in the dark arts of voodoo and witchcraft. While we'll probably never know the actual reason(s) Peyton passed on an opportunity to play in the desert, a very legitimate concern should have been the offensive line.

In 2011 the Cardinals ranked poorly in most categories by which an offensive line is measured, especially pass protection. Top to bottom, one through nine, they have had the oldest offensive linemen in the league for years. The last time the Cardinals used a first day draft pick on an offensive lineman was in 2007 when they selected tackle Levi Brown, and they haven't drafted any offensive lineman since 2009.

On the heels of losing out on Manning, the state of Arizona let out a collective moan when Brown was resigned… albeit to a much more salary cap-friendly contract. Despite being best known for ill timed penalties, a turnstile approach to pass protection, and as the player selected two spots ahead of Adrian Peterson; Levi Brown played the best football of his career over the latter half of the 2011 season.

With Browns improvement and the addition of free agent right guard Adam Snyder the Cardinals will look to bolster their line play by selecting a franchise offensive tackle. Riley Reiff, like Levi Brown, is a mauler in the running game, a reliably durable three year starter from the Big Ten Conference, and has the versatility to play either tackle position. He represents the "lunch pail" mentality that offensive line coach Russ Grimm covets. Despite his lack of athleticism, he is a day one starter for the Cardinals and may have the inside track at the left tackle spot if he is able to demonstrate a basic competency in pass protection. If Reiff does slip to the Cardinals at #13 this would be a rare but ideal selection based on best player available and need.
ON THE CLOCK: Dallas Cowboys, GM Â Joey Baldwin.