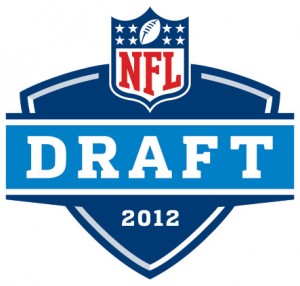 Pick eleven is down, pick twelve is fresh on the table.
Get all of look of the whole schedule and previously selected players here.
Last three picks
9. 

  Quinton Coples, DE, North Carolina
10. 

 Michael Floyd, WR, Notre Dame
11. 
 Dontari Poe, DT, Memphis
Today's GM is broncofan91.
With the eleventh pick of 2012 Interactive Mock Draft, the Seattle Seahawks select…
12.

 David DeCastro, OG, Stanford
This was a very hard pick to make because our top two targets at our biggest position of need are gone. With no other pass-rusher worthy we were left with three options: David DeCastro, Luke Kuechly or try to trade down.

We briefly considered trading down but the reward did not seem worth the risk of losing both players so it came down to DeCastro or Kuechly. Both play at a position of need and we believe that both will be great players but in the end we felt like DeCastro was the better value pick here. The departure of Robert Gallery left a hole, however small it may be, in the interior of our offensive line.

Our passing game ranked 22nd in yards and 23rd in points last season and while a lot of that can be attributed to bad QB play, the reality is that we also ranked 29th in the league in sacks allowed with 55. We are very confident that Matt Flynn can be our franchise quarterback but we must be able to protect him and while a healthy Russell Okung will help, it isn't enough. DeCastro has been a beast his whole college career protecting Andrew Luck.

Most young offensive linemen in the NFL struggle with pass protection but DeCastro excels in that area despite not being an elite athlete. His technique, toughness and tenacity helped him dominate virtually every pass-rusher he faced. As good as his pass-blocking is, his run-blocking is even better and although he did struggle against elite defensive tackles at times the thought of him leading the way for Marshawn Lynch is downright scary.
ON THE CLOCK: Arizona Cardinals, GM JR Victorian.