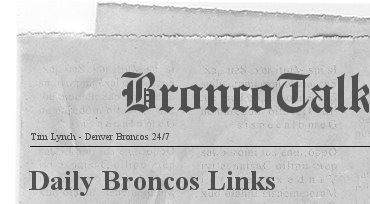 Win a custom commissioned sports athlete portrait – valued at $300!
Broncos want another RB regardless of Knowshon's condition | Denver Post
In early February, he was arrested and charged with DUI, failing to have insurance and careless driving. Police clocked him driving a Bentley 70 mph through a construction zone on Interstate 25 with a posted speed limit of 45.
2012 NFL Draft – McNabb & Plummer show concern for RG3 | Football Educator
Pro Football continues its count down towards the 2012 NFL Draft and already sparks are flying. To secure the #2 QB in the draft, the Washington Redskins made an early, if not overly bold move and traded up from #6 to #2.
NFL Draft: Breaking Down the "Cover 2" Safety | National Football Post
Playing Cover 2 (or Tampa 2) at the safety position is all about reading releases and stems of the WR. Drop to your landmark, play with depth and drive downhill on the throw. And as we continue to work towards the NFL Draft, I want to look at two routes (fade, corner) that every safety prospect will have to defend in deep half if they want to see valuable minutes on Sundays.

The Wonderlic exam: a player's perspective | National Football Post
The way I see it, the real issue with the Wonderlic exam is simple: its not a high priority when players are focused on running a 40-yard dash in front of pro scouts at the NFL combine.
Justin Bannan visits Broncos as defensive tackle option | Denver Post
Veteran defensive tackle Justin Bannan visited the Broncos on Thursday at the team's Dove Valley headquarters.
Tight ends could be a hot commodity in the upcoming NFL draft | Denver Post
Trying to find the "next" anything can be both a risky business as well as a maddening one.
Champ Bailey embraces increased expectations following Broncos' signing of Peyton Manning | Yahoo! Sports
The 11-time Pro Bowl cornerback believes Manning's introduction gives the Broncos a genuine chance at challenging for a Super Bowl title, but only if the squad lives up to its potential and starts to adopt a tougher mentality.
Broncos working out Brock Osweiler today | First and Orange
Big Bad John Elway will lead a Broncos' contingent today to Arizona State University where they will give a personal workout to Long Tall Brock Osweiler.
Audio: Gregg Williams' pregame speech imploring Saints to target specific players | First and Orange
On the same day Saints GM Mickey Loomis and assistant coach Joe Vitt are appealing suspensions at NFL headquarters, an explosive (and expletive-laden) audio recording from former Saints defensive coordinator Gregg Williams has emerged.
A QB Back in the Day: Charley Johnson | DenverBroncos.com
The most recent and an all-time most notable example is that of Peyton Manning, already stamping the Denver Broncos organization merely through osmosis, with greater influences to come steadily, and constantly, an ever flowing example of the water rising to elevate all boats.
High Elevation Plays To Peyton Manning's Strengths | Predominantly Orange
When the Denver Broncos signed Peyton Manning, they didn't just sign his arm (or neck for that matter). More than anything, they signed his brain. He's got one of the highest football IQ's in the sport, and he's arguably the best at reading defenses.
Denver Broncos: Free Agent Tackles Are Still Available | Bleacher Report
After a season where the interior run defense was poor even with the impressive play of linebacker Joe Mays and defensive tackle Brodrick Bunkley against opposing runners, Denver needs to address the position if the defense is to improve heading into the 2012 NFL season.
Draft Countdown: Denver Broncos | NFL Videos
02:02 – Check out highlights from recent draft picks by the Denver Broncos. For more, check out The NFL Films Blog.