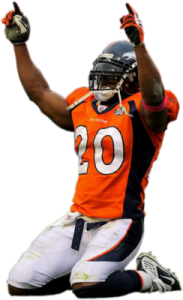 Quarterback Peyton Manning (36, 14 seasons) may not be the most experienced player on the Broncos' roster this season, as strange as that sounds.  If safety Brian Dawkins (38, 16 seasons) returns for the 2012 season, the nine-time Pro Bowler would become the oldest and most experienced player in Denver.
While he hasn't made his decision yet, Dawkins would like to return for a seventeenth season.
"My decision will be based upon me making the right decision for me going forward — period," Dawkins said on Sirius XM NFL Radio last month. "That's a decision I'll make at some point."
FoxSports.com reports that the Broncos have kept in contact with Dawkins about returning this season and would be open to him coming back.  The team and the fans, are now awaiting his decision. 
The veteran player's health is not a concern, as his neck is "100% recovered," according to Dawkins.
"I have all the strength back that I lost. I can play," said Dawkins in March.  Dawkins, an unrestricted free agent, has not drawn interest from any other teams and he noted that he would not return for the 2012 season if it was not for the Broncos.
At this stage in his career, Dawkins would probably mean more to the Broncos as an emotional leader and motivator, as well as a mentor to the younger players.  If Dawkins does choose to retire, the team won't be scrambling to replace him on the field.
Former Cleveland Browns safety Mike Adams, who signed with Denver as a free agent last month, is expected to becoming the starting free safety and second year defensive back Quinton Carter would presumably move from free safety to strong safety — the position he played while at Oklahoma.  Denver's secondary this season — barring a high draft selection being used on a top-tier secondary prospect — will probably consist of Champ Bailey and Tracy Porter the No. 1 and No. 2 CB's  with Adams and Carter being the two safeties.  If Dawkins returns, he would most likely see time as a situational player.
While we would love to see Brian Dawkins back on the field this season, we hope he makes a decision that is best for his health and his family.  Let's ride!