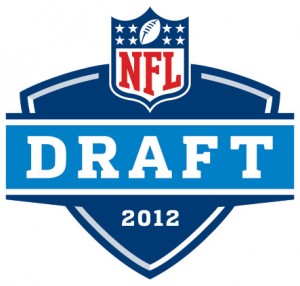 Pick ten is in the book, today we move on to number eleven.
Get all of look of the whole schedule and previously selected players here.
Last three picks
8. 

 Morris Claibourne, CB, LSU
9. 

  Quinton Coples, DE, North Carolina
10. 

 Michael Floyd, WR, Notre Dame
Today's GM is Mr. East. It should have been someone else, but I did not receive their pick.
With the eleventh pick of 2012 Interactive Mock Draft, the Kansas City Chiefs select…
11.
 Dontari Poe, DT, Memphis
Dontari Poe is a name often connected with the Chiefs in the 2012 Draft, and he fell perfectly to them in our mock as well. He's ranked anywhere from the 1st to 4th best defensive tackle on the experts' boards.

Poe is a BIG dude at 350 pounds, but he moves at speeds of players 60 pounds lighter. His workout numbers have some comparing him to Haloti Ngata, which is no small thing to say.

The Chiefs have taken steps to rebuild their defensive line, and this would be a BIG one if Poe pans out.
ON THE CLOCK: Seattle Seahawks, GM broncofan91.