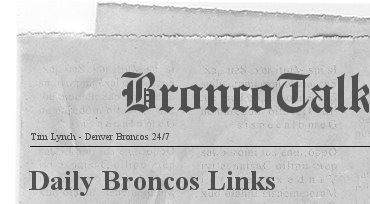 Win a custom commissioned sports athlete portrait – valued at $300!
Manning's fingerprints will be all over Broncos' playbook | Denver Post
The Broncos will create a playbook that Manning is comfortable running. Manning says, "I'm not going to be the offensive coordinator," but his fingerprints on the playbook will be unmistakable.
When Can You Start? by Tony Villiotti | Draft Metrics
In past articles, DRAFTMETRICS has presented information regarding the robability of draftees becoming starters. Remember, in DRAFTMETRICS-speak a player gets credit for being a starter if he starts at least eight games in a single season. A five-year starter, then, is a player who started at least eight games in a season at least five times.

DENVER BRONCOS 2012 NFL MOCK DRAFT | 4 ROUNDS | NFL Soup
Not many people are likely to argue the Denver Broncos made a good move in their recent deal with former Indianapolis Colts quarterback Peyton Manning; after all, the four-time MVP and Super Bowl champion already ranks highly among the greatest players of his generation.
Denver Broncos' preseason schedule highlighted by home game against San Francisco 49ers | Denver Post
The NFL released its teams' preseason opponents Wednesday, and a national TV matchup Sunday, Aug. 26, against the San Francisco 49ers at Sports Authority Field at Mile High highlights the Broncos' schedule.
Penn State defensive tackle worth a predraft look from Broncos | Denver Post
Still, a consensus All-American and the Big Ten Conference defensive player of the year last season with the Nittany Lions, will carry a first-round grade into the NFL's April 26-28 draft. He could be available when the Broncos get to use their first-round pick. They're in the No. 25 slot.
Broncos, all other NFL teams get new uniforms for 2012 | Denver Post
With a buzz fit for a Broadway opening, the NFL overwhelmed yet another day on the sports calendar Tuesday when Nike unveiled the league's new line of game uniforms.
Bears to host Peyton's Broncos debut | ESPN
The NFL announced Wednesday that the Chicago Bears will open the preseason by hosting the Denver Broncos the weekend of Aug. 9-12, meaning that fans at Soldier Field could see future Hall of Fame quarterback Peyton Manning in a Denver uniform for the first time.
New Nike NFL jerseys mean Denver Broncos back to Orange Crush | Examiner
On Tuesday, Nike took back over as the NFL's official equipment provider and with the company change came some notable changes to what all teams will be wearing and a transformation for the Denver Broncos.
Watch the NFL draft at Lonie Paxton's charity bowling tournament | First and Orange
Broncos long snapper Lonie Paxton's draft-night party is back, giving Broncos fans the chance to compete alongside Broncos players, watch the first round of the NFL draft and raise money for the Active Force Foundation, which supports wounded veterans and athletes.
Broncos to face San Francisco 49ers on national TV in preseason | First and Orange
The NFL on Wednesday set in soft stone the Broncos preseason schedule. Denver's opponents had previously been named, but the NFL now has at least given a range of dates when those games will be played.
Broncos preseason: Peyton Manning vs. Jay Cutler, Matt Flynn, Alex Smith, Kevin Kolb | First and Orange
That matchup will kick off at 2 p.m. Aug. 26 at Sports Authority Field at Mile High. The game will be nationally televised on Fox. No doubt, Fox believes there will be early interest in Peyton Manning, a 14-year quarterback with the Indianapolis Colts who signed with the Broncos as a free agent two weeks ago.
Mel Kiper Projects Broncos To Select LSU DT Michael Brockers | SB Nation
ESPN's Mel Kiper projects the Denver Broncos to select LSU defensive tackle Michael Brockers with the No. 25 overall pick in his latest mock draft. With the acquisition of Peyton Manning giving Denver new life on offense, it seems likely that defense will be the team's focus early in the 2012 NFL Draft.
Ta Ta for now Timmy "Tinseltown" | Mile High Report
See, I knew that moniker would make you laugh Tim. Seems that you have a much better sense of humor then most of your hypersensitive fans. Honestly I didn't know much about you, other than the obvious, before you came to the Broncos a little too early in the spring of 2010 but I have grown to like and respect you.
Broncography: Mike Adams | IAOFM
On Thursday, March 15 of 2012, Denver jumped into the free agent pool and came out clutching veteran free safety Mike Adams in its hooves. Was it the money or the atmosphere that brought him into the Broncos fold? According to Gray Caldwell, Michael 'Pops' Adams began by saying, "Nice to be here: the weather's nice."
2012 NFL Mock Draft | Walter Football
You think Peyton Manning will have a hand in the decision-making when it comes to the 2012 NFL Draft? Demaryius Thomas is a fantastic talent, but Manning needs someone else to throw to. Why not another Georgia Tech receiver? Stephen Hill will stretch the field and open things up for the running game.
Mock Draft 6.0 | National Football Post
After signing QB Peyton Manning, adding a big play threat to open up the field vertically and complement the pieces the Broncos already have in place makes a lot of sense for Denver.
2012 NFL Mock Draft 4.0 | SI.com
Brockers has slipped some as the draft scouting process has unfolded, but he'd be a great value for a Denver team that needs some heft and athleticism in the middle of its defensive line. I gave the Broncos Stanford tight end Coby Fleener in my 3.0 mock, but then Denver went out and signed veteran tight ends Jacob Tamme and Joel Dreessen.