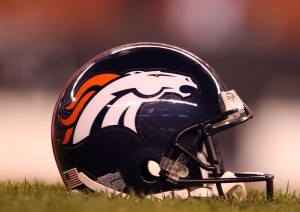 Refresh your browser accordingly for live updates…
12:00 p.m. (ET): Â That's all for this blog, more information on the Denver Broncos' new uniform can be found here.
11:56 a.m. (ET): Â Here's an up close shot of Denver's uniform, with no major changes noticeable
11:52 a.m. (ET): Â Finally. Â Here's a shot of all 32 teams' new uniforms, Denver's is near the front towards the center.
11:32 a.m. (ET): Â Here's a shot of the Seattle Seahawk's new uniform.
11:28 a.m. (ET): Â It's not nice to tell fans you're going to unveil something at 11:00 a.m. (ET) and then wait until 11:30 to do it.
11:14 (ET): Â Bailey: Â "These new uniforms are gonna be nice!"
11:11 a.m. (ET):  They are now saying the uniforms will be released in about 20 minutes, Nike and the NFL are hyping it up trying to be all dramatic.  
11:02 a.m. (ET): Â Eagles quarterback Mike Vick: " The new NFL uniforms thru Nike are going to be crazy… Innovation at its finest!"
11:00 a.m. (ET): Â Waiting for pictures from the event to leak…
10:53 a.m. (ET): Â For the most part, changes will be made not to the look but to the composition of the jerseys. Â The primary opportunity for creativity will come from the alternate uniforms, which teams may wear up to twice per year.
10:50 a.m. (ET): Â The team's new uniform is expected to be very similar to the 2011 orange alternate uniform with possibly a few alterations.
10:48 a.m. (ET):  Cornerback Champ Bailey is the team's representative at the Nike uniform unveiling today in New York.
10:47 a.m. (ET): Â Follow @UniWatch on Twitter for live updates and photos from New York!
10:45 a.m. (ET): Â Today at 11:00 a.m. (ET) the Denver Broncos and Nike will unveil the team's new uniform in New York. Â NFL Network will have coverage of the event.