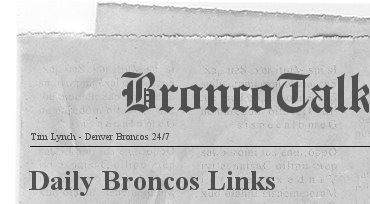 Win a custom commissioned sports athlete portrait – valued at $300!
The Denver Bronocs magazine has arrived in electronic format.  It is obviously worth a look-see.
UConn DT could be Broncos' first-round draft pick | Denver Post
Connecticut defensive tackle Kendall Reyes looks like a late first-round pick in the NFL's April 26-28 draft, which means the Broncos probably are interested in him at No. 25 overall.
Titan's Hayes to visit Rams, Broncos | National Football Post
Tennessee Titans free agent defensive end William Hayes has scheduled visits with both the St. Louis Rams and Denver Broncos, according to TitanInsider.com.
Draft Strategy: First Round Trades by Tony Villiotti | Draft Metrics
The Washington Redskins made big news a couple of weeks ago by making an aggressive move to trade up to the second spot in the draft, presumably to take RG3. That trade is the first of a half-dozen or so, if history is any guide, which will affect the order of drafting in the first round. A new variable that could affect the number of first round trades is the introduction of the rookie salary cap.

What do All-Pro teams tell us about NFL Draft? | SI.com
For as much research and analysis goes into each year's NFL Draft, the whole process is a very inexact science. How often has a "sure thing" flamed out before reaching an elite level? What causes so many late-round and undrafted players to wind up developing into terrific talents?
The Broncos' defense didn't get much help from the Broncos' offense last season | Denver Post
Denver led the NFL in rushing with a franchise-record 2,632 yards and tied for the NFL lead in carries (546), yet ranked only 25th in the 32-team league in average time of possession at 28 minutes, 51 seconds per game. Houston was the NFL leader in average time of possession at 32:41.
Bob Benz: Not fooling around about this | Taunton Daily Gazette
Sometimes sports feel like one big April Fools' joke. Seriously, who in their right mind would believe some of the stuff that has gone down over the course of the past year?
The Broncos 'Gain' May Just End Up Being the 49ers Miracle! | St. Augustine News
Yes, the headlines, banners – all the 'squawking' – refers to the (once) brilliant quarterback, Peyton Manning. Yes, this is a man who proved on the football field that he knew exactly what he was doing and brought an NFL team back from the brink and made them into icons (once). That was then…
Polian's expectations for Denver's offense | ESPN
Former Indianapolis Colts general manager and current ESPN analyst Bill Polian explains quarterback Peyton Manning will fit with the Denver Broncos in this Insider piece.
Broncos taking a look at DE William Hayes | First and Orange
The Broncos have spent their self-imposed $40 million budget in free agency thus far with quarterback Peyton Manning leading the way and defensive end Jason Hunter signing last week, but they are still kicking the tires around the league.
Mile High Monday: Manning Brings Big Expectations | Predominantly Orange
Peyton Manning didn't waste any time after he was introduced as the new starting quarterback of the Denver Broncos. As soon as the press conference was over, Manning got a locker, changed into some Broncos gear, and got to work.
Monday Musings – Manning, MJ & McCoy | IAOFM
After TJ cited Peyton Manning's radio appearance on 104.3 last week, I spent some time thinking about what Manning had said. There's no other way for me to put it – I feel like you've got to love Peyton's approach in all of this. This is what other, lesser QBs should have brought to the table over the years – the unshakable desire to win, and a willing acceptance of their role in making it happen.
Broncos Books: The Cookie That Did Not Crumble | Mile High Report
I just recently finished the newly released book, "The Cookie That Did Not Crumble", written by former Denver Bronco fullback Cookie Gilchrist (with contributions from Chris Garbarino) and I've got to say that for Denver Broncos and football history buffs this book is certainly something you should check out.