This is an opinion piece of the writer and doesn't necessarily reflect the feelings of BroncoTalk and/or the other writers on staff.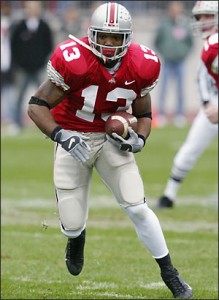 We're now entering the heavy pre-draft season in the NFL world, and every site, blog, twitter account, and message board is talking about their favorite team's draft plans. Â That or creating mock drafts, or talking about past drafts and "biggest draft mistakes". Â That said, it's time to move on from one of the most cliche, re-treaded stories used in football media. Â The drafting of a one Maurice Clarrett by Mike Shanahan.
Wonder what I'm talking about?  Start by looking here, here, and especially here.  That third link?  Shutdown Corner's 10 biggest draft busts of the last decade.  Notice something?  ♪One of these things is not like the other..♫ 
Charles Rogers, Round 1, #2 Overall
JaMarcus Russell, Round 1, #1 Overall
Peter Warrick, Round 1, #4 Overall
Reggie Bush, Round 1, #2 Overall (I'd argue this one as well, but lets save that for Saints/Dolphin talk)
Matt Leinart, Round 1, #10 Overall
Maurice Clarett, Round 3, #101 Overall
LaVar Arrington, Round 1, #2 Overall
Courtney Brown, Round 1, #1 Overall
Robert Gallery, Round 1, #3 Overall
Mike Williams, Round 1, #10 Overall
Figured it out?  Clarett is a 3rd round (back end) pick thrown in hundreds of these lists with top of the first round guys.  Now I know what you're saying, how can you actually defend Clarett?  I'm not going to, I'm here to defend the thought process of Denver's front office in 2005.  We all know Clarett's troubled finish to his college career.  You can read up on it at Wikipedia if you like.  What Shanny and company saw that day was a guy who averaged over 1000+ yards and 18 TDs while at Ohio State.
He was out of football two years and had a bad combine. Â You think Mike cared about that? Â Have you read Stephan Fatsis' book? Â Mike Shanahan runs one hell of a tight ship. Â Of course he thought he could whip Clarett back into form come training camp. Â The Corner's article covers this here:
His 40 times at the combine were abysmal and he looked puffier than Vince Vaughn in Old School. But Mike Shanahan had made stars of less (Mike Anderson, anyone?)
Exactly, not just Mike Anderson, Olandis Gary, Tatum Bell, etc. Â Shanny knew he had done it before and was ready to do it again. Â Now this is where you have to factor in the mindset of a front office and the draft board. Â Denver didn't exactly have a Patriots sized cache of draft treasure that year.
Denver Broncos 2005 Draft Results
Round
Pick
Player
Pos
School
2
24(56)
Darrent Williams
CB
Oklahoma St.
3
12(76)
Karl Paymah
CB
Wash. St.
3
34(97)
Domonique Foxworth
CB
Maryland
3
38(101)
Maurice Clarett
HB
Ohio St.
6
26(200)
Chris Myers
OG
Miami (FL)
7
25(239)
Paul Ernster
PK
N. Arizona
No first round pick, check. Â One 2nd round pick, check. Â Three 3rd rounders, hmm. Â 2005 was year they decided to throw corners at the wall and see who stuck. Â So what to do after that? Â Take a gamble, try to hit a homerun because playing it safe again probably wasn't going to pay off. Â This is how you win big on draft day folks. Â Pick your spots and gamble sometimes. Â You don't think Terrell Davis was sitting in the back of their minds? Â He was a 2nd string Georgia runningback nobody wanted. Â Also, lets not kid ourselves, there aren't a ton of Elvis Dumervils hanging around in that 4th round just waiting to be selected. Â Attempting to take a running back in the 3rd does much less damage to a franchise than missing on a guy like JaMarcus Russell. Â I would even argue that the Knowshon Moreno selection by Josh McDaniels was a bigger blunder. Â (He way still end up making these lists in the very near future. Â Once again, different article)
The front office knew it was a boom or bust pick. Â Clarett never played a regular season down for Denver, but that's what happens when you gamble. Â Sometimes that little ball lands on the little 00 green spot. Â Sometimes you play your birthday on the wheel and come away with a Super Bowl MVP. Â Nobody thought it was arrogant taking a player then. Â General Managers with the exclusion of Matt Millen and maybe Vinny Cerrato aren't graded this harsh for taking "risks" in the 3rd round, so why critique a guy so harshly? Â It's kind of childish, and yes I still like Shanahan and will stick up for his time in Denver. Â (I'm not touching that Washington mess with a 10ft pole) Â Look, nobody (except us) gives the Raiders a never ending hard time for drafting Quentin Moses in the 3rd round only to be cut before the season started. Â Find a new thing to write about guys because it's just getting tired.