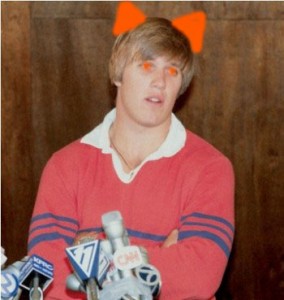 1984 by George Orwell was a damn good book, but little did we know that the real theme of the book truly was.
Forget about Winston Smith's rebellion against The Party, aka Big Brother. This book is all about how John Elway would come into the NFL and the Oakland Raiders would be barren of championships for almost 30 years now.
January 4th, 1984. From the time of this post, it has been…
889,703,425 seconds

14,828,392 minutes

10,297 days

1,471 weeks

339 months

or 28 years
… since the Raiders have won their last Super Bowl. 
It was a beautiful day in Tampa Bay, Barry Manilow was the singing the National Anthem, Pat Summerall and John Madden (our boy) were announcing the game, and the Redskins were favored by three.  Marcus Allen trounced the Redskins all game in route to our 38 – 9 victory and his MVP title. January 4th, 1984.
"I won't play of the Baltimore Colts." Why couldn't he have just played baseball? Robert Irsay, why did you give into his demands?
John Elway spent 16 seasons in the NFL.
The Raiders would only go to the playoffs in five of those seasons.

The Raiders would only win three AFC West titles during John Elway's tyranny (and only two of them outside of his rookie year).
It is no coincidence that the season that John Elway was drafted was the same season the Raiders won their last Super Bowl. It is also of no coincidence that the season John Elway became the Bronco's VP of Football Operations that the Raiders would fall short of the playoffs and the Broncos would take their rightful playoff appearance. Now John Elway is bringing Peyton Manning to the AFC West! When will it stop?!
Something needs to be done about this guy.
(Update: April Fools!)