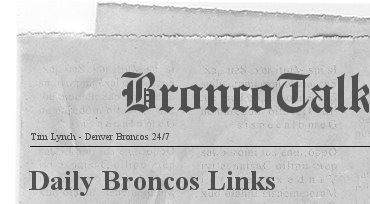 Win a custom commissioned sports athlete portrait – valued at $300!
I will normally be taking the weekends off from pumping out the daily links, but since I'm the new guy – and that I woke up earlier than usual – I decided not to take today off. Â These are later than usual, but enjoy the links nonetheless!
Draft Strategy: Introducing the "Urgency Index" by Tony Villiotti
The Urgency Index is based on historical information from the 1992 through 2005 drafts and compares the probability of drafting a five-year starter in the Value Group being reviewed with the probability of drafting a five-year starter in later Value Groups.
NFL faces new offseason rules under new CBA | Denver Post
Broncos coach John Fox loves to see Peyton Manning throw a football, especially now that Manning will do that in a Denver uniform. Fox, however, is far from enthused that Manning has to throw passes at a local high school to work with his new teammates instead of right outside Fox's office window at the Broncos' Dove Valley complex.

This really isn't Denver Broncos related news, but the more teams clamoring to overdraft at Quarterback or other positions no high on our teams needs list then the more talent at positions of need that will slide down to the #25 spot!
Texas A&M's Ryan Tannehill turns heads at pro day | Denver Post
Way back in the salad days of, say, like a month ago, Texas A&M quarterback Ryan Tannehill represented the quarterback on this year's draft board who wasn't named Luck or Griffin. Tannehill was the kind of prospect John Elway likes at quarterback.
Denver Broncos receiver Andre Caldwell is poised for a breakout season | Denver Post
Dileep, to personnel executives around the NFL, Caldwell is a bit of a riddle. They see size, speed and that he's a fairly sound player fundamentally.
Peyton Manning talks about tough decisions with students in New Mexico | Denver Post
For Peyton Manning, it's all about decision making—from his decision to finish his senior year at Tennessee to the hundreds of split-second decisions he makes on the field as an NFL quarterback.
New Denver Bronco talks with Times | Fort Morgan Times
The comforts of home were clearly under siege Wednesday morning.
Rattling, lifting, rummaging and perhaps even some tossing sounds could be heard all around Fort Morgan's Joel Dreessen.
BRONCOS GO ALL IN WITH PEYTON MANNING | Athlon Sports
"Plan B? I don't have a Plan B. We're going with Plan A." Those were the words uttered by Denver Broncos executive vice president John Elway at Peyton Manning's introductory press conference on March 20. Plan A is to hand the team over to Manning and ride his right arm to the Super Bowl.
Tim Tebow Thanks Broncos Fans Over Twitter | Channel 7 News
Former Denver Broncos quarterback Tim Tebow took to Twitter for the first time since being traded to the New York Jets to thank the fans and the Broncos organization for his time with the team.
2012 NFL Mock Draft: Peter Konz Projected For Broncos By Mocking The Draft | SB Nation
Lots of people have Denver going defense here, and I agree. That makes sense. However, if John Elway truly has no "Plan B" after he roped in Peyton Manning, then protecting Manning has to be the franchise's No. 1 priority. Elway failed to sign Jeff Saturday, Manning's former center in Indy. Thus, he goes with Konz.
Denver Broncos: Matt Roth and 4 Other Low-Cost Free-Agent Targets | Bleacher Report
With the draft looming and much of the previously abundant cap space filled with these signings, Denver still has many holes to fill on both sides of the ball with little money to do so.
Marcus Thomas' twitter feed indicates he wants to sign with Broncos like yesterday | IAOFM
Not only is Thomas openly tweeting about his desire to re-sign with the Broncos, he's re-tweeting fan tweets about him re-signing with Denver.
Taking a trip down memory lane | Mile High Report
Right now is a very exciting time to be a Denver Broncos fan. Lord knows we deserve it ha ha, I wanted to bring us down memory lane for just a moment to see where we have come from. I have been a Broncos fan for over 20 years and was there when John Elway & Terrell Davis & Shannon Sharpe won the back to back championships. But what really happened after that?
Taking a trip down memory lane (The Full History of the Denver Broncos) | Mile High Report
So I got some good reviews from my first post, but I wanted to pull out all punches. Many of you had other memories that were prior to the post Elway era. So I wanted to give you OLD TIMERS a memory jog.