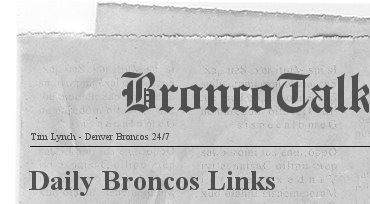 Win a custom commissioned sports athlete portrait – valued at $300!
After dealing with "It can never work" all last year with the Tim Tebow offense, I found myself irritated to read that his style of play will now be effective. Apparently, Rex Ryan is the one coach that can make it work. Â If you want to know what the East Coast Bias is, well there happens to be a perfect example of that ambiguous term. Â Not that it matters now though. Â We have Peyton Manning! Â On to actual Denver Broncos news…
Peyton Manning good to go for Broncos, says QB coach David Cutcliffe | Denver Post
David Cutcliffe has been watching Peyton Manning throw for nearly two decades. And, after orchestrating Manning's workouts from the time the quarterback was cleared by doctors to resume throwing and when Manning signed his contract with the Broncos last week, Cutcliffe saw enough to confidently predict that Manning will be just fine.
Defensing Broncos' Peyton Manning like a video game with no joystick | Denver Post
When it comes to the study of Peyton Manning, Jeff Fisher just might be the league's Ph.D. Nobody has tweaked more game plans, screamed more expletives into the headset at a play gone bad, or seen more preparation get wiped away by a wave of Peyton Manning's hands at the line of scrimmage.

Dear Peyton Manning, Do Jake Plummer a Favor and Buy His House (PHOTOS) | Realtor.com
NFL quarterbacks are members of an elite fraternity. The position involves an intense level of preparation, pressure and, quite frankly, a complete dedication to what is considered an art, which is exactly why quarterbacks often form bonds with one another throughout their careers – because who better understands what you're going through better than another professional quarterback?
Peyton Manning never had issue with playing in NFC | NFL News
As the smoke clears from the frenzied pursuit of Peyton Manning, we're finding out more and more about the wildest two weeks in free-agency history.
Broncos happy with addition of Tamme | CBS Sports
The Broncos didn't land former Colts tight end Dallas Clark. But the ex-Colt they did nab, fellow tight end Jacob Tamme, might be better going forward.
Much will be different on Broncos' offense this season | CBS Sports
It's not just the Broncos' offensive scheme that will change with Peyton Manning at the controls. It's an entire approach to the game for the players on offense.
Broncos QB Manning Drawing Rave Reviews | ABC Channel 7
Peyton Manning's former college coach said the quarterback looks ready to get back under center in the NFL.
After lost rookie year, it's time for Broncos TE Julius Thomas to step up | Denver Post
Wasn't Julius Thomas supposed to be the next great Broncos tight end? I realize he was hurt last year, but have they already given up on him?
Adaptable Hunter Still a Good Fit
Every player, at some point in his career, has said he'll do whatever the team asks if it helps the club win.
Broncos, Chiefs get high free-agency grades | ESPN
Matt Williamson's grades are in. He gives the Chiefs and Broncos high marks. The Chargers and the Raiders? Not so much.
NFL Mock Draft, Denver Broncos Select DT Devon Still | Predominantly Orange
It's that time again. Ever since I returned from the NFL combine in Indianapolis, I've been giving it a lot of thought. After seeing and hearing how the top college prospects present themselves, and taking into consideration what teams have done in free agency, I've compiled another mock draft.
Tim Tebow Capable Of Dethroning Mark Sanchez | Predominantly Orange
Why were the words "locker room" and "disarray" associated within the New York Jets organization? They were paired together by Jets cornerback Darrelle Revis on ESPN Wednesday during a word association game.
Who do you pick if you don't like Brockers, Cox, Still, or Worthy? | MileHighReport
I just finished Pat Kirwan's book, Take Your Eye Off the Ball. Great book, fantastic read! It led me to relook at they guys in the draft and look at them from a sort-of Moneyball angle. How can we get better players for less? How do you find a Tom Brady or a Terrell Davis in the 6th round, or a Rod Smith as an undrafted free agent?