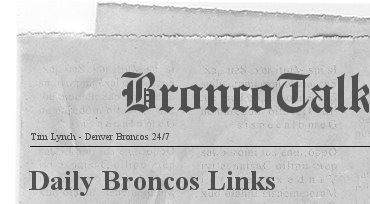 Win a custom commissioned sports athlete portrait – valued at $300!
There Will Be No Jake Plummer Comeback – DeadSpin
Jake Plummer joined KKFN in Denver to talk about him throwing the football around in Denver earlier this week, on the fans reaction to him throwing the other day, what kind of shape he is in, whether he gets an inkling where there is some percentage of him that wants to return to the NFL, if he is over the issues in the past with Mike Shanahan, and what bugs him about Tim Tebow.
PLAY BALL by Tony Villiotti – Draft Metrics
With the opening of baseball season upon us, DRAFTMETRICS got to thinking about the NFL draft in baseball terms. In this article the first three rounds of the drafts from 2002 through 2011 were reviewed and each player was placed into one of six categories (Home Run, Triple, Double, Single, Out, Too Soon to Tell). The focus was on the first three rounds because draftees from those rounds started 58% of NFL games from 2002-2011.

Six years later, Mike Shanahan's draft secrecy has disappeared – Denver Post
The last time Mike Shanahan was on the hunt for a franchise quarterback, he didn't tell anybody outside of team headquarters.
Peyton Manning majoring in language arts while learning Denver Broncos' playbook – Denver Post
Peyton Manning already is one of the all-time great quarterbacks, not that his past has done the Broncos any good.
Peyton Manning blew off surprise visit by Seahawks coach Pete Carroll – Indy Star
The courtship of Peyton Manning gets an exhaustive look from Peter King in the next issue of Sports Illustrated, and might leave Pete Carroll blushing.
Nike sues Reebok in NYC over Tebow apparel – Denver Post
Nike went to court Wednesday to prove that Reebok is no shoo-in to promote New York Jets quarterback Tim Tebow on apparel.
Ryan Clady Contract: Broncos, Tackle Expected To Talk Extension Over Summer – SBNation
The Denver Broncos have had a rock at left tackle since the 2008 season: Ryan Clady. He's started in 64 out of 64 possible regular season games and two playoff games. That's even after partially tearing a patellar tendon in April 2010, which put the start of that season in jeopardy (he proved a fast healer).
Peyton Manning, John Fox and the Offense of Benign Neglect – Huffington Post
If Denver's John Fox were a woman, some folks would be wondering what, um, favors he provided in order to get another head coaching job. As it is, one assumes that he gives the greatest interview on the planet.
Denver Broncos cheerleader named face of AKD and Go Wild! Wear – First and Orange
Denver Broncos cheerleader Toni Damico has been picked as the 2012 face of Angela King Designs' AKD and Go Wild! Wear. Nearly 200 college and pro-sports dancers and cheerleaders from across the United States and Canada had applied.
Rating the Current Roster: A 5 Star Review – Part 1: Offense – MileHighReport
It feels like we've been out of football for an eternity already, yet it's actually been less than two months since the Giants upset the Patriots… again.
Mailbag: L.T. to Oakland? – ESPN
Greg B from Denver wants to know what the Tracy Porter signing means for Denver second-year cornerback Chris Harris.
NFL Owners Adopt Changes – ESPN
Revis talks Tebow and Sanchez – NFL Videos
02:18 – Jets Pro Bowl CB Darrelle Revis shared his thoughts on the quarterback saga in New York between Tim Tebow and Mark Sanchez.